Doctor Strange in The Multiverse o Madness - The Loop
Play Sound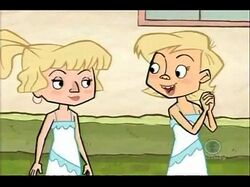 Jennifer and Claudia are two beautiful blonde twin girls on The Replacements. They are normally seen with Sierra McCool. The girls make their first (non-speaking) appearance in "The Jerky Girls" and their last appearance in "R2: A Tale of Two Rileys".
Physical Appearance
Jennifer has wavy hair in a ponytail. She wears pink hoop earrings, a periwinkle dress, and purple shoes. Starting with season 2, she wears a purple belt and stud earrings. Claudia has shorter hair than Jennifer. She wears an aqua green dress with a pink flower in the center, and blue shoes.
Trivia
In the first season episodes "The Insecurity Guard" and "Carnie Dearest", a common gag was for the two girls to be commenting on what they are wearing (which are actually identical to each other), when Todd lands in a mud puddle next to them, ruining their clothes. ("The Insecurity Guard" also marked their first speaking appearance, although Jennifer had two brief lines in the previous episode "CindeRiley".)
The show never actually reveals whether or not they are sisters (let alone twins), but this fact is hinted, based on the gag above.
Jennifer wears earrings, while Claudia does not.
Both of the girls wear socks with their shoes.
Jennifer was voiced by Lauren Tom, while Claudia was voiced by Erica Hubbard for season 1 and Tempestt Bledsoe for season 2. (Jennifer spoke less in season 2, than she did in season 1.)
Coincidentally, the name "Claudia" was also used for one of the names for the Bimbettes from Beauty and the Beast, who similar to Jennifer and Claudia, were also a set of identical blonde sisters (in their case, triplets).
Both Jennifer and Claudia like being with Sierra the same way Chip and Skip like being with Edward Platypus from Camp Lazlo.
Gallery