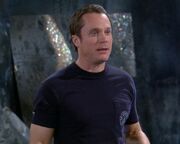 Jeremy Hunter is a Fire captain who investigated the fire at Shake It Up, Chicago, and was the boyfriend/fiancé of Georgia Jones for the first half of season three. He first appeared in Fire It Up, and immediately fell for Georgia. The romance continued to blossom for several episodes until "Oh Brother It Up" where they become engaged. The couple plan to wed in "I Do It Up", but they call off the marriage at the altar. Jeremy is the father of Logan Hunter and he is portrayed by Anthony Starke.
Appearances
Fire It Up
Funk It Up
Merry Merry It Up
Oh Brother It Up
I Do It Up
Trivia
He has a son
He is a chief firefighter or Fire Captain
He investigated Shake It Up, Chicago after a fire burnt down the studio.
He found out that Gary Wilde's tanning bed was the cause of the fire at the Shake It Up, Chicago studio. ("Fire It Up")
He proposed to Georgia ("Oh Brother It Up") but later called of the engagement ("I Do It Up")
He and Georgia may get back together in later season 3 or early season 4
He cares about the environment. ("Merry Merry It Up")
His portrayer guest starred in one of the CSI episodes
Community content is available under
CC-BY-SA
unless otherwise noted.