| | |
| --- | --- |
| | Jock is a featured article, which means it has been identified as one of the best articles produced by the Disney Wiki community. If you see a way this page can be updated or improved without compromising previous work, please feel free to contribute. |
"The name's Jock! [...] Heather Lad O'Glencairn, to you!"
―Jock to Tramp
Jock is a major character in Disney's 1955 animated feature film, Lady and the Tramp and supporting character in the 2001 sequel, Lady and the Tramp II: Scamp's Adventure. He is an irritable Scottish terrier who is the best friend of Trusty, a bloodhound, close friend of Lady, and later on, Tramp.
Background
Personality
Although sweet and loyal, Jock can be the most aggressive dog in Lady's circle of friends, in spite of being the smallest. Nevertheless, he values his loved ones and makes an effort to make such a fact clear, on a consistent basis. He treats Lady as his own relative, watching her grow alongside Trusty and continuously congratulates the spaniel on her many accomplishments, such as the day she received her first collar. He also takes it upon himself to mentor the young pooch, teaching her the ways of welcoming a new baby into the household and telling her stories of Trusty's past and such.
He is notably the best friend of his neighbor, Trusty who, like Lady, he treats like a relative, along with the lines of a brother. The two get along fine, but with Trusty's bumbling ways and Jock's occasional aggression, they sometimes clash, though they never let it tamper their friendship for long, if at all.
Though he is essentially warm-hearted, Jock tends to be stingy at times, and never lets anyone see his prized collection of hoarded bones, even Lady, and he frequently praises things based on their expense, such as Lady's collar and the coming baby. This trait is a reference to the stereotype of Scots being frugal.
As seen in the film, some of Jock's dislikes include the exposure of his prized bones, Trusty's clumsiness and "mongrels" like the Tramp.
In spite of his size, Jock is a fearless protector and will go to great lengths to protect the ones he cares about. This is shown when he threatens to attack Tramp (a dog twice his size) if he continues to "harass" Lady, and lastly when he risks his life to stop the dogcatcher's wagon from taking Tramp to the pound, as a way of apologizing to Tramp for mistreating him early on in the film, which shows he's honorable and admits to making mistakes.
Physical Appearance
He is a short and slender gray Scottish terrier with black eyes, thick gray eyebrows, a gray mustache-like beard and wears a red collar, a gold license, and later a plaid sweater.
Appearances

Jock first appears while singing his song as he buries his bone in his secret spot, along with many other bones. Jock is then encountered by Lady who presents her brand new collar complete with a license. They then go to visit Trusty, who is dreaming. Jock confesses to Lady that Trusty has lost his sense of smell. The next day, Jock and Trusty visits Lady, as it is a perfect day until Lady tells them bad news. She tells the duo that Darling has not been treating her the same, along with Jim Dear.
Jock and Trusty quickly realize what's going on and as Jock puts it, "Darling is expecting a wee bairn." They start to describe what a baby is until Tramp arrives. Tramp shoves Jock out of the way to speak to Lady, which upsets Jock, who barks at him to keep away from Lady.
Jock later reappears near the end of the film after Lady and Tramp got to know each other. At this point, Lady cannot stand him. And when Tramp returns after being separated by the dogcatcher, Jock is prepared to attack when ready, although Lady claims it's not necessary. After Tramp saved Jim Jr. from the attacking rat and killing it, Jock and Trusty realize that Tramp is really not all that bad for a dog. Jock felt very ashamed for misjudging Tramp badly from beginning to end.
To redeem themselves, Trusty and Jock rush to the dogcatcher's wagon and attempt to stop it and save Tramp. They succeed in saving Tramp, but unfortunately, Trusty is run over when the wagon crashes. Jock nudges his best friend, but Trusty does not move, leading Jock to howl in mourning. At Christmas, Jock joins Lady and Tramp, who have mated with four puppies. Trusty survived the crash with only a broken leg and joins the celebration as well. As the feisty Scamp unravels part of his plaid sweater, Jock congratulates Lady and Tramp on their puppies, also noting Tramp's collar like he did with Lady from the beginning.
Jock makes another cameo in the spin-off TV series in the pilot episode, "Home is Where the Bark Is". When Lucky asks Jock for a ride in his human's boat, after they miss the ferry, he at first turns them down before realizing that they are the puppies that Pongo and Perdita sent out a barking chain message about. He is then all too happy to use to boat to help the pups cross the water (his human is asleep during this sequence).
Later, as the pups race Cruella back to the Dearly Farm, Rolly frets that there is no way they can outrun Cruella's car. Jock then tells the pups to get going as he sends out another barking message to the farm animals so they can set up traps to delay Cruella. In the series, he is shown to wear a red sweater which he is seen wearing at the end of the original film.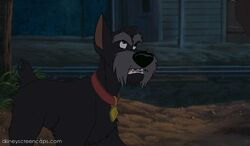 Jock reappears in the sequel. He and Trusty remain close to Lady and Tramp, being known as "Uncle Jock" to their puppies, Annette, Collette, and Danielle. He and Trusty are first seen as they watch happily while Lady, Tramp and their family pass through during a stroll. They later appear after Scamp ran off and the news is brought to their attention by Annette, Collette, and Danielle. Jock joins Lady, Trusty, and Tramp as they search for Scamp. Trusty and Jock continue to search and are eventually reunited with Scamp and join the family as they welcome Angel to the family.
Other appearances
Jock makes a cameo appearance in One Hundred and One Dalmatians. He is among the second of the dogs in London to pick up Pongo's barks during "The Twilight Bark" sequence. Upon picking up the message from Danny and Scottie at Hampstead, Jock sends the message up to a drainpipe, which is heard by an Afghan Hound. He also appears in the sequel, 101 Dalmatians II: Patch's London Adventure, Jock appears as the first of the dogs auditioning for the heroic bark contest with Thunderbolt.
Jock makes a brief cameo in the film Oliver & Company along with Trusty and Peg during Dodger's musical number "Why Should I Worry". Jock also makes a cameo in a Goof Troop episode called "The Ungoofables", while a similar-looking dog (who may or may not be Jock) cameos in another episode called "Hallow-Weenies".
Jock makes a handful of cameos in House of Mouse. Jock's most notable appearance is in "Pluto Saves the Day", where he joins an all-dog band singing "Everybody Wants to Be a Woof". Later in that same episode, he is seen with the other Pet Shop Dogs fighting off Pete (who's disguised as Snow White) and then chasing him out along with the rest of the dogs and Pluto.
Live-action appearances
Jock appears as a female in the film remake, voiced by Ashley Jensen in the remake. Although she is called "Jock" in this version, her owner also calls her "Jacqueline" in this film. Unlike in the original film, this incarnation of Jock has no solo song she sings at any point of the film.
Jock is first seen talking with Lady and Trusty where she feels overjoyed upon seeing Lady's collar just as she tells her friends that she is part of Jim Dear's family. Just as Trusty decides to find the rat, Jock's owner takes her back to her so that her owner can continue more paintings related to Jock. Having a conversation with Tramp, Jock and Trusty arrive just as she tells Lady to stay away from him just as Tramp walks away while she and Trusty are unsure of what Lady would do when a baby arrives in their house.
Later when Lady is reunited with Jim Dear's family, Jock and Trusty are happy for having Lady back with her friends where she explains that Lady has Lulu in her owners' family to which Jock finds it exhausting while Trusty feels overjoyed that she stayed away from Tramp thinking Tramp is a nuisance. Jock then explains that life as a street dog is extremely bizarre for her while her owner tells her to go back to her while Trusty feels overjoyed that Lady is back to talk to him again. Later when Tramp is being sent to the dog pound, Jock also comes to the rescue with Lady alongside Trusty in order to rescue Tramp from being impounded. Trusty then leads Lady and Jock to the scent he found to which he found the carriage leading to the dog pound containing Tramp inside. Having saved Tramp from the dogcatcher and when Christmas arrives, Jock then meets the street dogs Tramp encountered while Trusty decides to tell the story about of how he saved Old Reliable from the dogcatcher while Jock and the stray puppies listen to his story during Christmas.
Gallery
Trivia
v - e - d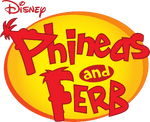 Episodes
Season One: "Rollercoaster" • "Candace Loses Her Head" • "The Fast and the Phineas" • "Lawn Gnome Beach Party of Terror" • "The Magnificent Few" • "S'Winter" • "Are You My Mummy?" • "Flop Starz" • "Raging Bully" • "Lights, Candace, Action!" • "Get That Bigfoot Outta My Face!" • "Tree to Get Ready" • "It's About Time!" • "Jerk De Soleil" • "Toy to the World" • "One Good Scare Ought to Do It!" • "A Hard Day's Knight" • "I, Brobot" • "Mom's Birthday" • "Journey to the Center of Candace" • "Run Away Runway" • "I Scream, You Scream" • "It's a Mud, Mud, Mud, Mud World" • "The Ballad of Badbeard" • "Dude, We're Getting the Band Back Together" • "Ready for the Bettys" • "The Flying Fishmonger" • "Phineas and Ferb Get Busted!" • "Greece Lightning" • "Leave the Busting to Us!" • "Crack That Whip" • "The Best Lazy Day Ever" • "Boyfriend From 27,000 B.C." • "Voyage to the Bottom of Buford" • "Put That Putter Away" • "Does This Duckbill Make Me Look Fat?" • "Traffic Cam Caper" • "Bowl-R-Ama Drama" • "The Monster of Phineas-n-Ferbenstein" • "Oil on Candace" • "Unfair Science Fair" • "Unfair Science Fair Redux (Another Story)" • "Out to Launch" • "Got Game?" • "Comet Kermillian" • "Out of Toon" • "Hail Doofania!"


Season Two: "The Lake Nose Monster" • "Interview With a Platypus" • "Tip of the Day" • "Attack of the 50 Foot Sister" • "Backyard Aquarium" • "Day of the Living Gelatin" • "Elementary My Dear Stacy" • "Don't Even Blink" • "Chez Platypus" • "Perry Lays an Egg" • "Gaming the System" • "The Chronicles of Meap" • "Thaddeus and Thor" • "De Plane! De Plane!" • "Let's Take a Quiz" • "At the Car Wash" • "Oh, There You Are, Perry" • "Swiss Family Phineas" • "Hide and Seek" • "That Sinking Feeling" • "The Baljeatles" • "Vanessassary Roughness" • "No More Bunny Business" • "Spa Day" • "Phineas and Ferb's Quantum Boogaloo" • "Phineas and Ferb Musical Cliptastic Countdown" • "Bubble Boys" • "Isabella and the Temple of Sap" • "Cheer Up Candace" • "Fireside Girl Jamboree" • "The Bully Code" • "Finding Mary McGuffin" • "Picture This" • "Nerdy Dancin'" • "What Do It Do?" • "Atlantis" • "Phineas and Ferb Christmas Vacation!" • "Just Passing Through" • "Candace's Big Day" • "I Was a Middle Aged Robot" • "Suddenly Suzy" • "Undercover Carl" • "Hip Hip Parade" • "Invasion of the Ferb Snatchers" • "Ain't No Kiddie Ride" • "Not Phineas and Ferb" • "Phineas and Ferb-Busters!" • "The Lizard Whisperer" • "Robot Rodeo" • "The Beak" • "She's the Mayor" • "The Lemonade Stand" • "Phineas and Ferb Hawaiian Vacation" • "Summer Belongs to You!" • "Nerds of a Feather" • "Wizard of Odd" • "We Call it Maze" • "Ladies and Gentlemen, Meet Max Modem!" • "The Secret of Success" • "The Doof Side of the Moon" • "Split Personality" • "Brain Drain" • "Rollercoaster: The Musical!" • "Make Play" • "Candace Gets Busted"
Season Three: "The Great Indoors" • "Canderemy" • "Run, Candace, Run" • "Last Train to Bustville" • "Phineas' Birthday Clip-O-Rama!" • "The Belly of the Beast" • "Moon Farm" • "Ask a Foolish Question" • "Misperceived Monotreme" • "Candace Disconnected" • "Magic Carpet Ride" • "Bad Hair Day" • "Meatloaf Surprise" • "Phineas and Ferb Interrupted" • "A Real Boy" • "Mommy Can You Hear Me?" • "Road Trip" • "Tour de Ferb" • "Skiddley Whiffers" • "My Fair Goalie" • "Bullseye!" • "That's the Spirit" • "The Curse of Candace" • "Escape from Phineas Tower" • "Lotsa Latkes" • "Ferb Latin" • "A Phineas and Ferb Family Christmas" • "Tri-Stone Area" • "Doof Dynasty" • "Excaliferb" • "Phineas and Ferb and the Temple of Juatchadoon" • "Monster from the Id" • "Gi-Ants" • "The Remains of the Platypus" • "Mom's in the House" • "Perry the Actorpus" • "Let's Bounce" • "Bully Bromance Break Up" • "Quietest Day Ever" • "Doonkleberry Imperative" • "Meapless in Seattle" • "Delivery of Destiny" • "Buford Confidential" • "The Mom Attractor" • "Cranius Maximus" • "Agent Doof" • "Minor Monogram" • "What a Croc!" • "Sleepwalk Surprise" • "Sci-Fi Pie Fly" • "Sipping with the Enemy" • "Tri-State Treasure: Boot of Secrets" • "Doofapus" • "Norm Unleashed" • "Where's Perry?" • "Ferb TV" • "When Worlds Collide" • "What'd I Miss?" • "Road to Danville" • "This is Your Backstory" • "Blackout!"
Season Four: "For Your Ice Only " • "Happy New Year!" • "Fly On the Wall" • "Bully Bust" • "My Sweet Ride" • "Der Kinderlumper" • "Sidetracked" • "Primal Perry" • "Mind Share" • "Backyard Hodge Podge" • "Bee Day" • "Bee Story" • "Great Balls of Water" • "Where's Pinky?" • "Phineas and Ferb Musical Cliptastic Countdown Hosted by Kelly Osbourne" • "Knot My Problem" • "Just Desserts" • "La Candace-Cabra" • "Happy Birthday, Isabella" • "Love at First Byte" • "One Good Turn" • "Mission Marvel" • "Thanks But No Thanks" • "Troy Story" • "Druselsteinoween" • "Terrifying Tri-State Trilogy of Terror" • "Face Your Fear" • "Cheers for Fears" • "Steampunx" • "Just Our Luck" • "Return Policy" • "Live and Let Drive" • "Phineas and Ferb Save Summer" • "Father's Day" • "Imperfect Storm" • "The Return of the Rogue Rabbit" • "It's No Picnic" • "The Klimpaloon Ultimatum" • "Operation Crumb Cake" • "Mandace" • "Phineas and Ferb: Star Wars" • "Lost in Danville" • "The Inator Method" • "Night of the Living Pharmacists" • "Tales from the Resistance: Back to the 2nd Dimension" • "Doof 101" • "Act Your Age" • "Last Day of Summer" • "O.W.C.A. Files"
v - e - d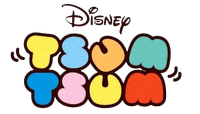 Disney
Mickey & Friends:

Mickey • Minnie • Donald • Daisy • Goofy • Pluto • Chip and Dale • Oswald • Ortensia • Duffy • ShellieMay • Gelatoni • StellaLou • CookieAnn • 'Olu Mel • Huey, Dewey, and Louie • José Carioca • Panchito Pistoles • Clarabelle Cow • Horace Horsecollar • Max Goof • Clarice • Pete • Scrooge McDuck • Ludwig Von Drake • Dr. Frankenollie • Julius

Pooh and Pals: Pooh • Tigger • Piglet • Eeyore • Rabbit • Owl • Roo • Kanga • Gopher • Christopher Robin • Lumpy
Lilo & Stitch: Stitch • Lilo • Scrump • Pleakley • Jumba • Angel • Leroy • Dr. Hämsterviel • Ugly Duckling • Sparky • 627 • Gigi • Babyfier • Yang • Slushy • Shortstuff • 625 • Amnesio • Dupe • Sample • Clip • Tank • Yin • Hunkahunka • Plasmoid
Silly Symphonies: Donald Duck • Big Bad Wolf • Practical Pig • Fiddler Pig • Fifer Pig • Ugly Duckling
Snow White and the Seven Dwarfs: Snow White • Evil Queen • Doc • Grumpy • Happy • Bashful • Sneezy • Sleepy • Dopey
Pinocchio: Pinocchio • Jiminy Cricket • Figaro • Cleo • Geppetto • Blue Fairy • Honest John and Gideon • Lampwick • Monstro
Fantasia: Mickey • Yen Sid • Chernabog • Hyacinth Hippo • Ben Ali Gator
Dumbo: Dumbo
Bambi: Bambi • Thumper • Miss Bunny • Friend Owl • The Great Prince of the Forest
The Three Caballeros: Gauchito • Burrito
The Adventures of Ichabod and Mr. Toad: Mr. Toad
Cinderella: Cinderella • Jaq and Gus • Prince Charming • Fairy Godmother • Lady Tremaine • Lucifer • Suzy • Perla • Bruno
Alice in Wonderland: Alice • Mad Hatter • March Hare • Dormouse • White Rabbit • Cheshire Cat • Tweedle Dum and Tweedle Dee • Queen of Hearts • King of Hearts • Caterpillar • Dinah • Oysters
Peter Pan: Peter Pan • Tinker Bell • Wendy Darling • John Darling • Michael Darling • Captain Hook • Mr Smee • Nana • Tick Tock • Tiger Lily
Lady and the Tramp: Lady • Tramp • Si and Am • Jock • Trusty • Peg
Sleeping Beauty: Aurora • Phillip • Maleficent • Flora • Fauna • Merryweather • Diablo • Samson • King Stefan • Goon • Owl • Rabbit
Mary Poppins: Mary Poppins • Bert • Penguin Waiter • Carousel Horse
One Hundred and One Dalmatians: Cruella De Vil • Lucky • Patch • Rolly
The Jungle Book: Mowgli • Baloo • Bagheera • Shere Khan • Kaa • King Louie • Hathi, Jr. • Raksha
Pete's Dragon: Elliott
The Fox and the Hound: Tod • Copper
The Aristocats: Marie • Berlioz • Toulouse • Duchess • Thomas O'Malley
The Rescuers: Bernard • Bianca
Oliver & Company: Oliver • Dodger • Tito • Rita • Francis • Einstein
The Little Mermaid: Ariel • Flounder • Sebastian • Eric • Ursula • Triton • Max • Scuttle
Beauty and the Beast: Belle • Beast • Lumiere • Cogsworth • Mrs. Potts • Chip • Maurice • Philippe • Gaston • LeFou
Aladdin: Aladdin • Abu • Genie • Jasmine • Jafar • Sultan • Iago • Rajah
The Nightmare Before Christmas: Jack Skellington • Sally • Zero • Lock, Shock, and Barrel • Oogie Boogie • Dr. Finkelstein • Mayor of Halloween Town • Santa Claus
The Lion King: Simba • Nala • Timon • Pumbaa • Zazu • Rafiki • Scar • Ed
Pocahontas: Pocahontas • John Smith • Meeko • Flit • Percy
Hercules: Hercules • Megara • Hades
Mulan: Mulan • Li Shang • Mushu • Fa Zhou • Khan
The Emperor's New Groove: Kuzco • Yzma • Kronk
Mickey, Donald, Goofy: The Three Musketeers: Mickey Mouse • Minnie Mouse • Donald Duck • Goofy
Chicken Little: Chicken Little
The Princess and the Frog: Tiana • Dr. Facilier
Tangled: Rapunzel • Flynn Rider • Pascal • Maximus • Mother Gothel • Queen Arianna • King Frederic • Cassandra • Fidella • Pub Thug
Wreck-It Ralph: Wreck-It Ralph • Fix-It Felix Jr.
Frozen: Anna • Elsa • Olaf • Kristoff • Sven • Hans • Snowgies • Bruni
Big Hero 6: Hiro • Baymax • Fred • Wasabi • Honey Lemon • Go Go Tomago • Tadashi Hamada • Yokai • Mochi
Zootopia: Judy Hopps • Nick Wilde • Mayor Lionheart • Flash • Yax • Gazelle • Chief Bogo • Clawhauser • Finnick • Mr. Big • Bellwether • Jerry Jumbeaux Jr.
Moana: Moana • Maui • Pua • Heihei • Tamatoa • Kakamora
Chip 'n Dale Rescue Rangers: Chip • Dale • Gadget • Monterey Jack
Phineas and Ferb: Perry
The Lion Guard: Kion • Ono • Bunga • Beshte • Fuli
DuckTales (2017): Scrooge McDuck • Huey, Dewey, and Louie • Webby Vanderquack
Kingdom Hearts: Sora • Riku • Kairi • Aqua • Xemnas • Ansem, Seeker of Darkness • Ventus • Terra • Chirithy • Lea • Young Xehanort
UniBEARsity: Mocha • Pudding • Whip • Puffy • Mont • Blanc • Souffle • Blue Rose • Charmant • Portiron • Rogue Rose • Fauve • Lucien • Horloge • La Mer • Ma Puce
Sofia the First: Sofia • Minimus • Skye
Elena of Avalor: Elena
Enchanted: Giselle
Disney Fairies: Periwinkle • Rosetta • Silvermist
The Sword in the Stone: Wart • Merlin
Oliver & Company: Oliver
Raya and the Last Dragon: Raya • Sisu
Twisted Wonderland: Grim • Riddle Rosehearts • Azul Ashengrotto • Leona Kingscholar • Kalim Al-Asim • Vil Schoenheit • Idia Shroud • Malleus Draconia • Dire Crowley • Mirror of Darkness