John Hughes High School is the high school that Cece, Rocky, Deuce, Dina, Ty, Gunther, and Tinka attend on Shake It Up. The gang (minus Ty) began the show in eighth grade. The visual style of the school is made to look like the real life Lincoln Park High School in Chicago.
Known Faculty
Principal - Principal Rabinoff
Vice Principal - Vice Principal Winslow
Teacher - Mr. Polk
Teacher - Mrs. Rubenstein
Teacher - Mr. Leech
Gym Teacher - Coach Lesseur
Librarian - Ms. Burke
Known Students
Freshmen (9th Grade)
CeCe Jones
Rocky Blue
Deuce Martinez
Danielle
Savannah
Candy Cho
Randy Cho
Dina Garcia
Gunther Hessenheffer
Howard
Tinka Hessenheffer
Abigail
Sophomores (10th Grade)
Juniors (11th Grade)
Seniors (12th Grade)
Appearances
Start It Up
Give It Up
Add It Up
Kick It Up
Age It Up
Hook It Up
Wild It Up
Match It Up
Show It Up
Heat It Up
Glitz It Up
Hot Mess It Up
Reunion It Up
Sweat It Up
Model It Up
Twist It Up
Three's a Crowd It Up
Doctor It Up
Review It Up
Auction It Up
Copy Kat It Up
Egg It Up
Judge It Up
Parent Trap It Up
Weird It Up
Whodunit Up?
Tunnel It Up
Protest It Up
Wrestle It Up
Rock and Roll It Up (in 1953)
​Trivia
Although the school goes from grades 8-12, only twelve 9th and two 11th graders have been addressed by name.
The name of the school may be a reference to the famous filmmaker, John Hughes, who is known for directing and/or writing films such as The Breakfast Club, Sixteen Candles, Pretty in Pink, Ferris Bueller's Day Off, and the Home Alone trilogy. He grew up in Chicago, IL, where Shake It Up is set, and where a majority of his films were set. His last film written before his death in 2009 was Drillbit Taylor, in which Shake It Up's own Roshon Fegan appeared as a "Random Kid". Hughes was also buried in Chicago.
v - e - d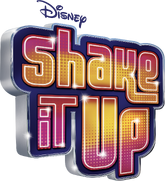 Locations
John Hughes High School
Community content is available under
CC-BY-SA
unless otherwise noted.