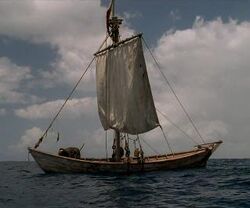 The
Jolly Mon
was a small fishing dory originally owned by
Anamaria
, until it was commandeered by Captain
Jack Sparrow
. Jack would use the boat in some of his adventures, including towards Shipwreck Cove, where he was to wed Scarlett and Giselle. After Scarlett took four nails out of the Jolly Mon, the boat gradually sank as Jack Sparrow arrived to the Port Royal harbor.
History
Early use
It is unknown when the Jolly Mon was built, but it is known that Anamaria was the proud owner of it. Anamaria would use the dory as a fishing boat until Jack Sparrow stole it from her. He claimed he had intended to bring it back to its rightful owner, but he would never managed this.
Jack's boat
With his new boat, Jack would venture to many ports. He likely used the Jolly Mon during his separate dates with two wenches, Scarlett and Giselle. The Jolly Mon would later make port in Shipwreck City, where Scarlett and Giselle were convinced, by Jack, that they would be wed. However, it was a plan of Jack's to sell them as he sail away to find another better ship to commandeer. But before Jack left, Scarlett would have taken four nails off of the Jolly Mon, in case Jack had cold feet of her supposed wedding.
Ten years after losing the Black Pearl to Hector Barbossa, Jack Sparrow sailed the Jolly Mon into Port Royal. Throughout the voyage, Jack would spend some time trying to get water out of the boat. By the time Jack arrived at Port Royal, the Jolly Mon was sinking beneath the wave. Jack reached Port Royal's docks moments before the boat was completely sunk, leaving only the top of its single mast above water.
Behind the scenes
The Jolly Mon appeared in The Curse of the Black Pearl. Archived footage of the boat appeared in Wedlocked.

The Jolly Mon may have been named after a children's book of the same name by Jimmy Buffet, in which a fisherman's boat is stolen by pirates.

It was first confirmed on the DVD commentary of The Curse of the Black Pearl that the boat used by Jack at the start of the film, and the one he stole from Anamaria are one and the same.

The film's first screenplay draft sees the Jolly Mon safely tied up at Port Royal, and later used by Jack and Will to board the HMS Dauntless.

The Jolly Mon also appears in the constructible card game "Pirates of the Cursed Seas" in the Pirates of the Caribbean series, but it's design is very different.
Community content is available under
CC-BY-SA
unless otherwise noted.