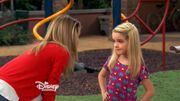 Jules is a little girl who used to be friends with Chloe in Dog With a Blog. She's portrayed by McKenna Grace.
Character History
When Avery attempts to help Chloe patch things up with her, Avery met her brother, Dax, who she took an interest to.
Avery tried to use Chloe by making her and Jules stay friends. When Jules doesn't want to, Avery gave her jewel wrist then when Chloe found out, when Jules blabbed it out, she disowns her.
When Jules came up to Avery, she asked she can her sister if Avery gave her necklace.