"Even miracles take a little time."
This article features media from Walt Disney Company or its subsidiaries that has yet to be released.
To prevent speculation, please add reliable sources to the unreleased media. Any information that is not backed up by citations may be removed.
Thank you and have a magical day!

Juliet Butler is a character in the upcoming film Artemis Fowl, played by Tamara Smart. She is the younger American sister of Domovoi Butler.
Due to her young and impulsive nature, she is not fit to be a bodyguard or butler and is instead training to become a professional wrestler. She is still a valuable ally to Artemis Fowl II and Domovoi.
When a troll gets loose in Fowl Manor, Juliet is magically compelled to perceive him as one of her wrestling partners, but thankfully Domovoi saves her.
v - e - d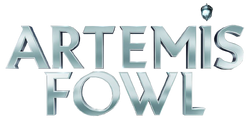 Media
Films:
Artemis Fowl
Books: Artemis Fowl • Artemis Fowl: The Arctic Incident • Artemis Fowl: The Eternity Code • Artemis Fowl: The Opal Deception • Artemis Fowl: The Lost Colony • Artemis Fowl: The Time Paradox • Artemis Fowl: The Atlantis Complex • Artemis Fowl: The Last Guardian
Community content is available under
CC-BY-SA
unless otherwise noted.