"Just One of the Princes" is the first episode of the Disney Junior animated series, Sofia the First. It premiered on January 11, 2013.
Plot
Sofia and her family are going to watch a flying derby race. During the race, James tells Sofia that Royal Prep has its own flying derby team and that the try-out race is next week. After the race is finished, Sofia decides to go to the try-out practice at Royal Prep tomorrow. Sofia arrives at the tryouts the next day but, to everyone's shock, Sofia wants to try out for the Flying Derby team herself instead of just watching but is told by Hugo that flying derby is only for princes, though she believes it could be. After being encouraged by Clover, Sofia announces that she will try out for the team. While her parents and Baileywick are supportive, Amber and James on the other hand are not. Amber still insists that princesses shouldn't be derby racers, while James is only worried that his little sister will make him a laughing stock. When he points out that Sofia doesn't even know how to ride a horse much less about being a Flying Derby racer, his father suggests that James could teach her, and at the same time get in some much-needed practice himself.
The next day, Sofia is ready to get a horse of her own and ends up with the one horse nobody wants, Minimus. Even though Minimus lacks self-confidence and has many faults, Sofia thinks he's perfect just the way he is. Unfortunately, she has trouble right from the start, and even with James's help, she is unable to even stay on her horse. However, Sofia refuses to give up trying out for the team and James vows to continue teaching her, even after they are mocked by Prince Hugo, the best rider in the school. Sofia and Minimus do well on most of the course, but are unable to tackle the final hurdle, which is to go through the top of the steeple. Later that night, Amber once again tries to discourage Sofia from racing, stating she almost crashed after failing to get through the steeple and she doesn't want her to get hurt. She then talks with her animal friends about what to do, and they say all she needs to do is get an early start so she can get more practice in.
But even with extra practice, Sofia and Minimus still can't get through the steeple, for which Minimus blames himself. Hugo appears and tells Sofia there's no point in starting a race she can't finish, and she should go back where she belongs: with the other princesses. After Sofia comes home from school, her mother tells her that she and Roland will be going to watch the tryout race, but Sofia says she might not participate since she can't finish the course. Miranda tells her not to give up and that while she believes Sofia can make the team, what Sofia herself thinks is most important.
On the day of the race, several people show up to see if a Princess can indeed make the team, which makes Sofia nervous but with support from James, she is ready to race. She starts out in last place but quickly makes progress. Hugo, deciding to take her out of the race, purposely brings his own horse to a sudden halt, taking Minimus by surprise and causing Sofia to fall off him much to the shock of Amber and the crowd. Amber angrily closes her fan and boos Hugo. Sofia almost decides to finally give up, but James appears and says he's not crossing the finish line without her. After helping her get back on her horse, the two of them catch up to Hugo and are soon at the steeple. Sofia and Minimus finally manage to go through it, to the surprise of Hugo, who barely avoids crashing into a tree as a result of not looking where he's going. Both Sofia and James get past Hugo, winning the race. The two of them are given Royal Prep's team jerseys and congratulated by their parents. Amber, who no longer likes Hugo because of what he'd done to Sofia, also admits that perhaps racing could be a princess thing after all, and gives Sofia her derby tiara to go with the jersey.
Cast
Songs
Trivia
This episode was the first of the two bonus episodes of Walmart exclusive DVD release of Sofia the First: Once Upon a Princess.
The title of this episode is a nod to Just One of the Guys.
This is the only episode where Prince Hugo is voiced by Colin Ford, who is later promoted to voice his older brother, Axel, who made his debut in season two.
Moral: You can do anything you set your mind to if you never give up.
Goofs
Shortly before Princess Things starts, James is shown in his flying derby uniform. When the princesses and princes march around as the song begins, James is wearing his regular clothes.
After Princess Things, while talking to Clover and the birds on the bed in her bedroom, Sofia appears barefoot and a few frames later she appears using her slippers.
Prince Hugo's helmet disappeared when he got off his horse at the end of the episode.
Screenshots
Concept Art
Screenshots
v - e - d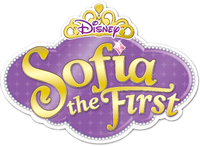 Characters
Princess Sofia • Queen Miranda • King Roland II • Prince James • Princess Amber • Princess Hildegard • Cedric the Sorcerer • Wormwood • Baileywick • Robin • Mia • Clover • Whatnaught • Goodwyn the Great • Winifred the Wise • Jade • Ruby Hanshaw • Princess Clio • Prince Zandar • Princess Jun • Prince Hugo • Minimus • Princess Vivian • Crackle • King Marcus and Queen Cecily • Trolls• Lucinda • Prince Jin • Magic Carpet • Jasper • Prince Khalid • Meg and Peg • Madam Ubetcha • Prince Desmond • Miss Nettle • Sir Gillium • Professor Popov • Helen Hanshaw • Oona • Queen Emmaline • Cora • Plank • Aunt Tilly • Wilbur the Wombeast • Sven • Emperor Quon • Empress Lin-Lin • Rex • Prince Axel • King Garrick • Electra • Vaughan and Vance • Marla • Sir Bartleby • Sir Maxwell • Sir Finnegan • Gwen • Chef Andre • Sofia the Worst • Lady Joy • Lord Gilbert • Wu-Chang • Jade Jaguar • Sir Dax • Boo • Princess Lani • Mamanu • Kamea and Halia • Praline • Freedo • Princess Zooey • Princess Astrid • Slickwell • Greylock the Grand • Princess Ivy • Dragons of Enchancia • Winter • Whiskers • Glacia the Ice Witch • Elliot, Amy, and Kurt • Tizzy • Master Erwin • Bryce Twigley • Button, Benngee, and Brody • Mossy • Carol of the Arrow • Jane • Princess Kari • Miss Elodie • Fluke • Slim • Shelly • Flip • Mantacorn • Onyx and Opal • Wendell Fidget • Mrs. Fidget • Saffron • Muck, Gunk, and Grime • Spruce • Ballerina • Mazzimo • Prince Roderick • Gavin • Kazeem • Sergeant Fizz • King Habib and Queen Farnaz • Chief Gnuckles • Flinch • Grotta • Elfonso • Elfred • Milo the Snake • King Henrik • Cordelia the Conjuror • Calista • Morgana • Crispy • Barley • Sassofras • Professor Zacharias Fleeber • Grand Mum • Gemina and Argus • Count Barnstorm • Sir Oliver • Sir Jaxon • Willawing • Kai • Princess Charlotte • Morris • Zinessa • King Philip and Queen Everly • Lily • Indigo • Marty and Maple • Mandy • Grimtrix • Wriggley, Pumpkin, and Chester • Skye • Piccolo • Baron Von Rocha • Professor Pecullian • Sea Monsters • Malachite and Fig • Omar • Prisma • Azurine • Orion • Vega • Chrysta • Sizzle • Cinder • Singe • Mare of the Mist • King Roland I • Roma • Giggling Goblin • Captain Quivers • Twitch • Vor • Nerissa


Elena of Avalor: Princess Elena • Princess Isabel • Francisco • Luisa • Shuriki • Alacazar • Zuzo • Mateo • Migs, Luna, and Skylar • Rafa • Chancellor Esteban • Armando • King Raul and Queen Lucia • Naomi Turner
Guest Characters: Flora, Fauna, and Merryweather • Cinderella • Jasmine • Magic Carpet • Belle • Ariel • Aurora • Snow White • Mulan • Rapunzel • Tiana • Merida • Olaf • Merlin • Archimedes