Wiki Targeted (Entertainment)
Play Sound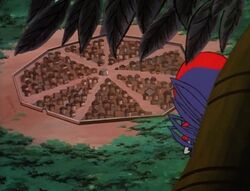 Kara Digi is the lost city of Nigeria that is/was controlled by Anansi.
History
Legends
The panther queen was told to build the great city of Kara Digi in order to turn back into a panther. Soon as everyone is turned into panthers, Anansi banished all the inhabitants of the location.
1994
Now in 1994, the lost city has been filled by lots of spider webs under the rule of Anansi. This location was entered once the Manhattan Clan tries to stop Tea Gora who is chasing Fara Maku (as a panther).
Elisa thought of a plan to see who turned the two into panthers. Anansi ended up taunting everyone, seeing them to be very despicable. The Manhattan Clan had to stop the giant spider from causing too much destruction. Soon as Anansi is stabbed by Goliath, the city and Nigeria would not be protected without the curse. This is because Anansi shrunk into a size of a tiny spider.
External links