Keia is a character from the Disney Junior show Puppy Dog Pals. She lives next door to Bingo and Rolly and is Chloe's pet.
Keia is a Pomeranian Mix puppy and the third member of the Puppy Dog Pals group. She is energetic and the youngest.
Background
Personality
Keia is a very excited puppy, she usually gets excited easily and talks a lot. She is energetic, and like Rolly: silly. She loves to play Puppy Pounce with her friends and help everyone. Keia is hyper and energetic and is always ready for an adventure to save Chloe or her friends. Along with that, she is artistic and creative.
Physical Appearance
Keia is a Shiba Inu puppy who has a creamy fur with white markings along her body, along with brown red-ish eyes. Her casual outfit is a blue puppy sweater and a pink collar with a golden star shaped tag. And usually, a cute, happy smile.
Trivia
Her voice actress actually confirmed that Keia does not have a breed, but she looks like a Shiba Inu Puppy.
Merchandise of her was released before her debut
According to her voice actress, Keia's name was originally going to be "Tikka". Proof: https://www.youtube.com/watch?app=desktop&v=VLW8Udkzasg
She is the only pup in Puppy Dog Pals who has pets. (Ex: Strawburry the Ladybug and Fuzzy the Caterpillar, who is now a moth)
v - e - d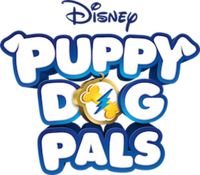 Songs
Puppy Dog Pals theme • Going on a Mission • Fire Truck Time • Waddle Waddle Waddle • Clean Up Time • This is How You Jump • Fix This Day • You're My Best Friend • Keep on Tryin' • Coolin' Out • Feels Like We're Flying • At the Pumpkin Patch • On Halloween Night • Captain Dog • Scuba Doggin' • Dig • Bury It! • Bizzy Beaver Builds a Dam • Gonna Get to the Bottom of This • Walkin' the Bob • Surfin' Puppies • Bubble Wrapped! • Tangled Up! • Looking for Bob's Bird • Andiamo (Let's Go!) • Gotta Get the Ball! • The Race is On • Let's Hit the Road • We Need to Be Quiet • Doesn't Take Much • Gotta Make the Latkes • Watch Out • You Still Look Pretty Little to Me • Ol' Snapper • Catch That Squirrel • Diggin' Again • The Hunt for Hissy • Four Leaf Clover • Dry Cleaner Puppy Party • Slow Down Grandma • If You Have a Pet • Looking for a Boomerang • Olivia! • Birthdays Are the Best • You're Dancin' • Our New Best Friend Keia • I Would Do Anything • Guess Who's Got a Brand New Doghouse? • The Fang Fairy • Snow Monkeys • You Need Some Rest • Puppies on the Moon • Super Bouncy Pups • Spy Puppies • The Alpine Puppy Yodel • We're Bringing Dinner to Bob • There's Always Room for Another Friend • It's Christmas (And We're Heading Home) • Gary the Gecko's Lemur Song • His Name is Zeus • The Fetchin' Wind is Hard to Do Blues • Three Pups in Paris • Hong Kong Pups • Dog Washing • Whodunnit?
Community content is available under
CC-BY-SA
unless otherwise noted.