"You can do nothing without the key!"
"I already have the key!"
"No you don't! Ha Ha!"
"Oh, that key!"
―Davy Jones and Jack Sparrow

The Key to the Dead Man's Chest is the key to unlocking the mysterious Dead Man's Chest that holds the heart of Davy Jones, captain of the ghostly Flying Dutchman. It played a prominent role in Pirates of the Caribbean: Dead Man's Chest and its sequel, At World's End.
Appearances
Films
Thirteen years after his bargain with Davy Jones, Captain Jack Sparrow was given the Black Spot by Bootstrap Bill Turner, thereby is marked for the Kraken to hunt unless Jack repays his debt. To elude Jones' wrath, Sparrow sought out the Dead Man's Chest, which contains the still-beating heart of Davy Jones, in order to save himself from a life of servitude to Jones. Prior to this, Jack had already found a drawing of a key, which bewildered his crewmen. Jack showed the drawing to Will Turner, persuading him that finding the key would help to rescue Elizabeth Swann, currently in prison at Port Royal. Will accepted, and boarded the Flying Dutchman, where he tricked Davy Jones into revealing the key's location, and stole it in the dead of night, replacing it with the drawing.
Will absconded with the key, and eventually arrived to Isla Cruces, where he confronted Jack as he found the Dead Man's Chest. A fight ensued, which ended with Jack having used the key to unlock the chest and thinking he stole Davy Jones' heart for himself. However, James Norrington secretly took the heart for himself, handing the empty chest (with the key) over to Jones' crew, while Norrington presented the heart to Lord Cutler Beckett.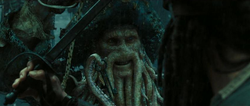 When the Dead Man's Chest was put on board the Flying Dutchman, the key remained where any member of Cutler Beckett's EITC soldiers could unlock the chest and kill Davy Jones. After the death of Admiral Norrington, the key was kept by Mercer. During the maelstrom battle, Jack Sparrow stole the chest while Davy Jones killed Mercer for the key. Jones tried to recover the chest in a duel with Jack. The key was lost by Jones when the tentacle he was holding it with was severed. Jack later found the still-mobile tentacle slinking across the deck, the key still in its grasp. He used the key to finally reopen the chest. What happened to the key at this point is unknown.
Gallery
External links