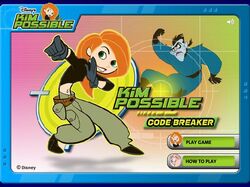 Kim Possible: Code Breaker
is an online video game.
Description
It's the grand final of the international cheer-leading competition. But a rival team led by the extreme reality TV stunt woman, Adrena-Lynn, have hidden Explosive Pom-Poms in a desperate attempt to cheat! Your mission, Kim, is to find all of the Explosive Pom-Poms before the competition final starts.
Instructions
In each mission, you have to find a number of objects.
Click on a square to clear that area. You will find numbers in some squares, these tell you how many objects there are surrounding that square.
If you think you know where an object is hidden, do not click on it at all costs. Instead place a marker using the Space Barto indicate that the area is a dangerous area.
Mark all the objects with symbols to complete the mission, then try the next mission.
When you clear a mission, you will be given a secret code. You can download the special wallpaper by entering the five digit secret code.
Community content is available under
CC-BY-SA
unless otherwise noted.