King Leonidas
is the secondary antagonist and also the king of the
Isle of Naboombu
from
Disney
's
1971
film
Bedknobs and Broomsticks
. He was advertised as the main antagonist, but this was the plot to be outranked by the
final but general main villain
.
Background
Physical Description
King Leonidas looks similar to Prince John from Robin Hood, but has a mane, a royal golden crown, and wears a king's red robe.
Personality
Like all lions, King Leonidas is arrogant. Even though he is not completely evil, he is sensitive and temperamental. Also, he possesses a deep love for the game of soccer, as seen when the royal championships on his Island could not continue when a suitable referee couldn't be found. He was extremely aggressive and roared at everything that moved.
Powers and Abilities
King Leonidas' voice is quite powerful, which can be expected from a royal lion. His yell to 'stop that ball' is powerful enough to blow everyone away to the net from its hurricane-like force.
Appearances
He has an anti-human attitude, which may have stemmed from the fairy tale that animals staged a coup on the Isle of Naboombu, killing the original leader, the human wizard Astoroth. He wears The Star of Astoroth, a talisman that is needed to bring inanimate objects to life. After suffering much pummeling and stampeding at a soccer game, Mr. Brown succeeds at grabbing the Star of Astoroth from him. After being alerted by his secretary bird, an enraged Leonidas tries to pursue Mr. Brown, Miss Price, and the children, but he is foiled when he is turned into a rabbit, albeit one with a lion's tail, by Miss Price. He is last seen scurrying away. As Miss Price's rabbit spells are temporary, he presumably returned to his lion form soon after.
King Leonidas appeared in cameo with his servant The Secretary Bird from House of Mouse.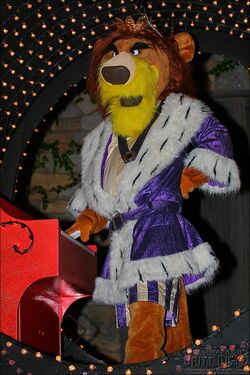 Disneyland's Electrical Parade
King Leonidas appears in the electrical parade.
Trivia
King Leonidas is the Disney character with the loudest, booming yell ever as he bellowed, "STOP...THAT...BALL!!!!!!"
King Leonidas as a rabbit has a similar look to Skippy from Robin Hood.
Not to be confused with the other King Leonidas from 300.
He is made to look like the movie's main antagonist but is never seen again after halfway into the movie. The movie's real villain is Colonel Heller.
Gallery
Community content is available under
CC-BY-SA
unless otherwise noted.