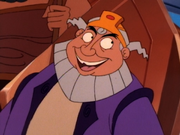 King Minos is a minor character first seen in the Hercules TV series. He was voiced by the late Charles Nelson Reilly.
Role
During the episode "Hercules and the Minotaur", King Minos commissions Daedalus to complete his project of the Labyrinth. It is later revealed that Minos' labyrinth will house a monstrous creature known as the Minotaur.
Community content is available under
CC-BY-SA
unless otherwise noted.