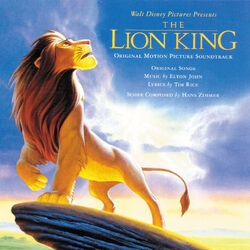 "King of Pride Rock" is an instrumental score composed by Hans Zimmer. It features African vocals provided by Lebo M and his South African choir. It is six minutes long, and is featured in The Lion King soundtrack, as well the Special Edition soundtrack.
Background
It is played during the final moments of the film, from when Simba returns to Pride Rock to his first confrontation with Scar to the final sequence of the film. It contains a variation of the song, "Busa Simba", and this concludes with a reprise of "Circle of Life".
In the stage musical, the score is heard after Simba and the Pridelanders defeat Scar and the hyenas. Additional African vocals sung by Lebo M. and his choir are heard as Simba ascends Pride Rock, reclaiming his rightful place as king.
Trivia
References
Community content is available under
CC-BY-SA
unless otherwise noted.