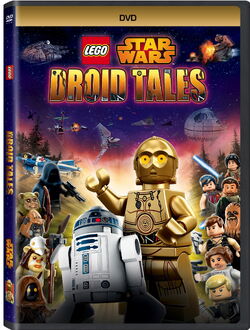 LEGO Star Wars: Droid Tales is a 2015 Star Wars LEGO mini-series that re-tells the Star Wars saga in chronological order from Star Wars: The Phantom Menace up through Star Wars: Return of the Jedi.
Plot
Droid Tales is a re-telling of the Star Wars universe through the eyes of C-3PO and R2-D2.
Following their victory celebration in the Ewok village on Endor, seen at the close of Star Wars: Return of the Jedi, C-3PO and R2-D2 have gathered to regale Luke, Leia, Han, Chewbacca and the other Rebels with the tales of their adventures that led to the events of Star Wars: The Phantom Menace. An accidental kidnapping occurs while the droids are reminiscing and suddenly viewers are taken on a new adventure that leads to encounters with familiar faces and places that prompt the re-telling of the entire saga. The series offers all of the playful humor that viewers expect from LEGO Star Wars.
Cast
Anthony Daniels - C-3PO
Eric Bauza - Luke Skywalker
Tom Kane - Yoda
Trevor Devall - Sheev Palpatine
Michael Daingerfield - Han Solo
Michael Donovan - Count Dooku
Heather Doerksen - Princess Leia
Lee Tockar - Darth Maul
Matt Sloan - Darth Vader
Billy Dee Williams - Lando Calrissian
Kirby Morrow - Darth Vader
Brian Drummond - Watto
Samuel Vincent - Obi-Wan Kenobi
Adrian Holmes - Mace Windu
Colin Murdock - General Veers
Montana Norberg - Padme Amidala
Michael Benyaer - Kanan Jarrus
Paul Dobson - Ki-Adi-Mundi
Andrew Francis - Senator Bail Organa
Alan Marriott - Agent Kallus
Adrian Petriw - Ezra Bridger
Elysia Rotaru - Sabine Wren
Nicole Oliver - Hera Syndulla
Bronwen Holmes - Darth Vader
Gallery
External links
Community content is available under
CC-BY-SA
unless otherwise noted.