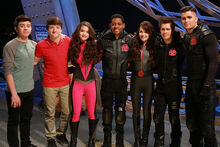 "Lab Rats vs. Mighty Med" is a special crossover episode of Lab Rats and Mighty Med. It premiered on July 22, 2015.
Characters
Trivia
This is the first crossover between two Disney XD shows.
A reference to the Where's Waldo? series is made when Adam gets dressed up as Waldo.
This crossover marks the second time Tyrel Jackson Williams and Bradley Steven Perry appear together since Pants on Fire
This crossover marks the second time Jake Short and Billy Unger work together since ANT Farm.
When Skylar is unsure who Oliver reminds her of, Oliver guesses that it is Thomas the Tank Engine.