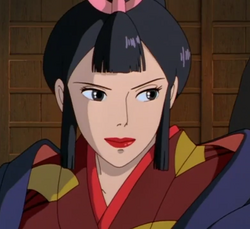 Lady Eboshi is the main antagonist of the 1997 Studio Ghibli film Princess Mononoke (Although, some could argue the Monk Jigo is the bad guy whom she is working for). She was voiced by Yūko Tanaka in the original version and Minnie Driver in the English dub.
Personality
While she is the closest thing the movie has to a main antagonist, she is not really much of a villain. She is still likable and is well aware of the consequences of war. She just wants to create peace amongst the other humans. She doesn't want to harm the animals of the forest but has to hunt down the spirit god.
External links
Community content is available under
CC-BY-SA
unless otherwise noted.