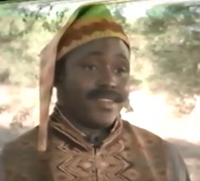 Lazardo V is a supporting character in the TV film Geppetto. He is part of Geppetto's journey on finding out the meaning of being a good parent.
Role in the film
Lazardo is both a bad magician and a good toymaker (like Geppetto). He is bad at magic, but only does it because his father, Lazardo IV, himself a magician, as were past generations, "would be so disappointed in [him] [if he didn't become a magician]." He attempts the idea of burning a shrub, and to shoot something off Geppetto's head, much to the latter's dismay. It is clear that Lazardo does not enjoy performing magic and would rather be a toymaker. He shows how good he is at that, and Geppetto encourages this profession (via reprise of "Toys"). Unfortunately, Lazardo tells him he has no idea what it's like for a father to put pressure on his son, but Geppetto says he does, "especially when he's mine." This teaches Geppetto that just because he is a toymaker, as was his father before him, and so on, doesn't mean that Pinocchio has to be one too. In fact, everyone is to be free to pursue his or her own career choice regardless of his or her own parents' professions.
Secretly, it turned out he'd been hired by the Blue Fairy to teach this lesson, as he asks her how he did.