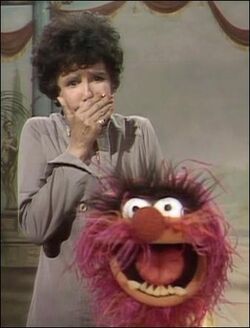 Lena Horne (June 30, 1917 – May 9, 2010) was an American singer, actress, civil rights activist, and dancer.
She never had any roles in a Disney production, but she appeared as a guest star in the eleventh episode of The Muppet Show. Her song "Stormy Weather" (from the 1943 film of the same name) was also featured in a music video on DTV, set to footage of, among others, The Old Mill and the "Pastoral Symphony" scene of Fantasia (showing Zeus and Vulcan crashing Bacchus' wine party with a storm). This music video aired on the Disney Channel and was later made available on the video release DTV: Golden Oldies.
Gallery
Community content is available under
CC-BY-SA
unless otherwise noted.