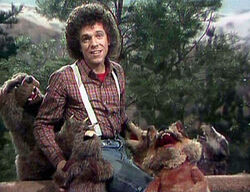 Leo Sayer (born May 21, 1948) is a British pop singer. His only role in a Disney-related production to date is a guest appearance in episode 302 of The Muppet Show. In addition, his recording of "You Make Me Feel Like Dancing" appeared in An Extremely Goofy Movie.
In the 1980s, another song of Sayer's, "Long Tall Glasses", was made into a music video on DTV that aired on The Disney Channel and set to footage of the "Johnny Appleseed" scene from Melody Time, Cold Turkey, Donald's Cousin Gus, the "Pastoral Symphony" scene from Fantasia, Timber, Mother Goose Goes Hollywood, The Autograph Hound, Thru the Mirror, Hawaiian Holiday, Snow White and the Seven Dwarfs, The Three Caballeros, Dumbo, Cock o' the Walk, and Two Chips and a Miss.
Gallery
Community content is available under
CC-BY-SA
unless otherwise noted.