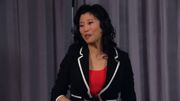 Leslie Lindemulder is a producer in Dog With a Blog. She's portrayed by Deborah S. Craig.
Character History
Leslie is the producer of Graham Cavanaugh's show, Night Night with Graham Cavanaugh.
When James-Jennings arrived when Graham called for Ellen about her video of Gracie, Leslie welcomed them, although, she doesn't seem please when it comes to family or additional guests.
When Avery, Tyler, Chloe, and Stan got Gracie by using their own talents, Graham announced that his employees, including himself, would be out of job. Leslie thought being fired would bring those two together, however, Graham was joking about them being fired.
Trivia
When Graham was joking about him and his employees getting fired, Leslie has strong feelings for him, showing that she has when she was working for him.