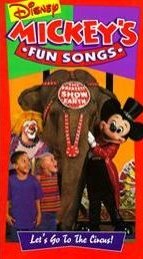 Let's Go to the Circus is a Disney home video, originally released as a Mickey's Fun Songs home video on February 2, 1994, and then reissued as a Disney's Sing Along Songs video in 1996.
Summary
Mickey and the gang spend the day at the Ringling Bros. and Barnum & Bailey Circus exploring the show both on and off the stage.
Songs
The Circus on Parade
Upside Down
The Man on the Flying Trapeze
Over and Over Again
Those Magnificent Men in Their Flying Machines
Make 'Em Laugh
The Bells
Animal Calypso
Jump Rope
Be a Clown
Join the Circus
Cast
Kids
Ryan Gay
Michelle Montoya
Nicole Pitts
Shari Lynn Summers
Adults
Eric Michael Gillett - Ringmaster
David Larible - Lead Clown
Vivien Larible
Mark Oliver Gebel
Tina Gebel
Voice cast
Trivia
This is the fifth live-action sing-along video.
Barry Manilow is reported to have composed the score for the video and wrote two original songs with Bruce Sussman, but credited as written by Andy Belling and Nick Allen.
This is the only Disney live-action sing-along video that doesn't take place at a Disney theme park, even though the Disney Characters walk-arounds are shown.
This sing-along video is a crossover between Disney and the Ringling Bros. and Barnum & Bailey Circus.
Though not advertised as such, "The Bells" sequence involves a performance of "Theme from New York, New York" on differently tuned bells by Goofy, Donald, Tiffany, and three other invited members of the crowd, supervised by David Larible (who rings a low-tuned bell once near the end of the sequence).
The end credits show some behind-the-scenes stills such as Christian dressing up as a clown, Mickey and Minnie outside, Goofy lying on the floor, and a monkey holding a pie plate.
Gallery
Community content is available under
CC-BY-SA
unless otherwise noted.