"Speed. I am speed."
―Lightning McQueen ready to race
Lightning McQueen (real name Montgomery) is the main character of the Disney•Pixar Cars franchise. He is a famous race car who learns there is more to life than just racing and winning following a brief but life-changing stay in the remote town of Radiator Springs he was stranded in after getting lost on the way to California.
He is the protagonist of Cars and Cars 3 and the deuteragonist of Cars 2.
Background
Personality
At first, Lightning is self-centered and overconfident, feeling he can win the Piston Cup on his own without help from any pit crews or coach. He is so full of himself to the point where he claims he does not need any friends and cannot even get anyone's names right. Because of his attitude towards people, he turned out to be rather friendless and became lonely, which is shown when his agent Harv gave him a few tickets to give his 'friends,' unaware that Lightning had no friends. However, he is also something of a perfectionist and will not cease to get something done right, even if it was not in his best interest to indulge in it in the first place as seen when he was tasked by the townsfolk to fix the road that he himself destroyed when he first arrived at their place. After a few grudging performances in his attempts to fix the road, he finally manages to do so. His sponsors are Rust-eze, a small company selling soothing ointment for rusty old cars, which Lightning hates. However, he transforms into a more sympathetic, understanding, and selfless character during his time in Radiator Springs on Route 66. During the final race, his new personality made him change his ways when he decided to accept defeat by forfeiting the Piston Cup so he can help Strip Weathers finish his last race, realizing that helping others is more important than winning even if it allowed Chick Hicks to win. He has since learned to enjoy making friends and treat others with respect.
Physical appearance
Lightning has blue eyes and primary has warm colors in his paint jobs. His car model is said to be a stock car and more curvaceous Le Mans endurance racer mixed together,[2] while the Cars Blu-ray Car Finder game states it to be a 2006 handmade one of a kind car.
When he is originally sponsored by Smell Swell in the World of Cars book, he has a red ducktail spoiler, the Smell Swell logo on his hood, and his racing number, 95, painted green on his sides, along with a thin, yellow lightning bolt.
When Lightning gets sponsored by Rust-eze, he has the team's logo on his hood and the back of his sides, along with the name put on his spoiler, which is still a ducktail. His own name is seen on each side of his roof, and he has chrome bolt stickers on his front fenders. He has a large lightning bolt shape on his sides that is yellow at the front, and orange at the back, and has individual black and white lines. His racing number is painted yellow, orange, and red, and is located on his roof and sides. Additionally, he has several decals of the Piston Cup teams over and under the end of the bolt shape, as well as stickers that look like headlights, which he does not actually have, and are the reason why he is usually called "Stickers" by Sally. His racing number is also displayed on one of them. He even has black tires which have on them the Lightyear brand, that is a reference to Goodyear and Buzz Lightyear, and red rims. His back bumper is painted yellow, which references the yellow back bumpers of NASCAR rookies' cars.
While he helps out the residents of Radiator Springs, he gets a new paint job, which is a darker red, with a half of a long oval shape painted in wheat and with a thin bolt shape inside. His racing number, name inscription, bolt stickers, and sponsor are absent along with his spoiler, and he gets his racing tires replaced with whitewalls. However, when he gets taken to the Los Angeles International Speedway by Mack and the press, he gets his Rust-eze customization and racing tires back.
After finishing the Piston Cup season, he gets another repaint, which regains the oval shape and thin bolt, but slightly shorter, with his racing number in black inside a white circle that has black borders. Additionally, his bolt stickers are again absent. He also regains his spoiler and has less Piston Cup decals, which are all located on the bottom of his sides. He uses this when he is not racing, as he has his original paint job in Cars: The Video Game.
In his first appearance in Cars 2, Lightning regains his original red shade, his bolt stickers, and the original Rust-eze appearance of his racing number, and has a dark red bolt that is the same size as his original bolt shape, along with a thin yellow bolt across. The Rust-eze logo is absent at the back of his sides, and he has the "Hudson Hornet Piston Cup" logo beside his front fenders.
When Lightning takes part in the World Grand Prix, he uses a new paint, which removes the Rust-eze logo and bolt stickers, and has the "Hudson Hornet Piston Cup" logo on his hood. His Piston Cup decals, which were all still on the bottom of his sides, are replaced by the World Grand Prix and allinol logos. His ducktail spoiler is replaced by a raised one, which has the name of Rust-eze replaced by the World Grand Prix logo. He also uses different sets of tires outside races and has a large bolt shape that is again orange and yellow in the same locations, but with green borders, and the back of the bolt is styled after flames, which there is also a dark red flame behind the bolt. The borders of his racing number are also changed from white to green. Beside his front fenders, he has an idol that is almost shaped like a crest, which the World Grand Prix logo and symbol inside it on the top, with the United States flag and his racing number beneath. Additionally, he gets his headlight stickers replaced with actual headlights.
Soon after, as shown in Cars Toons: Tales from Radiator Springs, Lightning regains his bolt stickers and has all of his World Grand Prix markings removed. He regains the same number of decals from his original Rust-eze paint job, put in the exact same locations. On his spoiler, he has an inscription of Radiator Springs' name as well as a symbol of Radiator Cap Mountain.
In his first appearance in Cars 3, he has a new design which is a large bolt but with his sponsor's name Rust-eze at the back of the bolt. He has a bolt on his hood with the same Rust-eze word, retaining his actual working headlights from the second film and ducktail spoiler from the first film.
Four months after his crash in the Los Angeles International Speedway race, he is seen in his primer colors while still sporting the 95 decals on his sides before being repainted in his original paint job by Ramone.
Once in the Rust-eze Racing center, he receives his electronic suit in which enables Cruz Ramirez to track his top speed through her agent Hamilton (only at close range). With the help of Mack and Luigi, he covers himself in mud under the alias Chester Whipplefilter in order to keep himself low profile in Thunder Hollow before Cruz Ramirez accidentally exposes him to the public after her victory. He finally accidentally loses his electronic suit in Thomasville during his training with Cruz, Smokey, and the retired veteran racers at night.
After his (indirect) and Cruz's victory in the Florida 500 race, he gets a new paint job as the Fabulous Lightning McQueen, sporting Doc Hudson's colors, the Rust-eze logo on his hood and 95 on his backsides, his lightning bolt stickers on his front sides, and the Fabulous Lightning McQueen logo on his sides. On his rear, he sports For Doc Hudson as he assumes his career as Cruz's crew chief and mentor in Dinoco-Rust-eze.
Appearances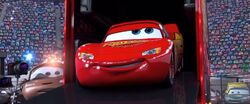 Lightning is running in the Dinoco 400 to win the Piston Cup, with the incentive that the winner would be the replacement for Dinoco's old mascot, Strip Weathers, who was retiring. However, during the race, he denies tire changes from his pit crew, requesting only gas. But about 100 yards from the finish line, his back tires blow out. Rather than winning the race, he barely manages a tie with Strip Weathers and Chick Hicks. His pit crew abandon him after he tells "Not Chuck", one of his members, to get out of the camera shot. Strip Weathers (also known as "The King") admonishes him for his overconfidence and lack of teamwork, but Lightning does not listen because he is lost in thought about the joys of working for Dinoco. Afterwards, he is forced to go into his sponsor Rust-eze's (a company that sells a rust-cleaning product) tent that is full of rusty old cars, which Lightning hates. He then has a talk with his agent Harv, who explains how he got tickets for Lightning to give to his friends, but Lightning is unable to respond to this due to the fact that he has no friends.
Now on his way to the tie-breaker race in Los Angeles, Lightning orders his driver Mack to drive all night in order to get the sponsorship, but he inevitably falls asleep. Lightning ends up lost in a little ghost-town called Radiator Springs and after tearing up their main road, he is sentenced to community service to repair the road.
While he is in town, he meets a selection of cars, most notably being Doc Hudson and Sally Carrera. Although at first rude to Doc, McQueen does find out about his past as a Hudson Hornet who won 3 Piston Cups until a devastating crash put him out of season which caused him to be replaced by a rookie. With Sally, the two take a drive and McQueen begins to learn about Radiator Springs past and how it used to become a landmark until the interstate highways took over. As a result, he soon comes to realize how arrogant and selfish he has been and that there is more to racing than just winning and what people in the real world have gone through in their lives. He also makes friends with every car in town, especially Mater, a rusty tow truck who chooses him as his best friend, even going Tractor Tipping with him and showing his signature backwards move. At the end of the film, Lightning, Chick Hicks, and The King vie for the Piston Cup in a tiebreaker race in Los Angeles. During the race, he thinks about his new friends which cause him to spin out off the track, but regains confidence when he finds out that Mater, Luigi, Guido, Fillmore, Sarge, Sheriff, Ramone, along with Doc Hudson who has acted as McQueen's new crew chief arrived to support him. McQueen even tried the new tricks his friends taught him in the race when Chick Hicks plays dirty such as driving backwards and doing Doc Hudson's signature move when he goes out on the grass once more.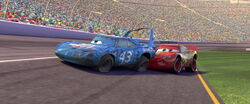 Lightning is about to win the race by several car lengths when The King is wrecked badly by Hicks. Lightning is reminded of Doc Hudson's horrible crash that brought an end to his career and unable to bear the thought of something similar happening again, he abruptly skids to a stop just in front of the finish line, allowing Chick to win the title. Humbly accepting his loss, Lightning heads back down the track to save The King and help him across the finish line to give him a respectable finish for his final race, coming in third place, a best finish for him much to the crowd's amazement. The King points out to Lightning that he sacrificed his Piston Cup win to save him, only for Lightning to say that a grumpy old race car once told him that "it's just an empty cup."
Impressed by his good sportsmanship, Tex Dinoco offers the contract to be their mascot to Lightning rather than the now unpopular Chick Hicks, but Lightning turns it down, saying he needs to complete his contract with Rust-eze, the company who gave him his big break, first. He then sets up headquarters in Radiator Springs, drawing attention back to the little town and making it popular again and simultaneously returning it to the map. In the process, Route 66 forevermore once again becomes a historical tourist attraction.
Lightning appears in the short, seen at Flo's V8 Café with the rest of the townsfolk. Seeing a tow hook behind some cans, he starts to think that it belongs to Mater, and hopes that he would not be planning to scare him. However, Mater then jumps out of nowhere and freaks Lightning out, causing him to jump and knock down the rest of the cans, revealing that it was only one of Mater's signs. Mater tells Lightning that he looked like he had seen the ghostlight, to which Sheriff then tells the townsfolk a story about a couple who disappeared after coming across the ghostlight. He then informs the residents to keep their eye out for the ghostlight, before everyone, except Mater, quickly leave and say goodnight.
Shortly after arriving at his home, Mater notices a blue light behind him, believing it to be the ghostlight, and drives away in fright. It then turns out to be a prank, as Lightning and Guido have actually put a lantern on Mater's tow hook. Lightning and the townsfolk all watch as Mater continues driving around the town until he gets tired and eventually realizes what it actually was. Lightning and the others then laugh, to which Mater sarcastically says that he knew it was a prank all along. After Sheriff and Doc tell Mater to only be scared of his imagination and the Screamin' Banshee, McQueen and everyone else quickly leave Mater and drive back to their homes to sleep.
Lightning appears in every episode of Mater's Tall Tales released.
In each episode, a random thing makes Mater mention to Lightning about things he did years ago. Lightning listens to each of Mater's stories, and always makes a comment of disbelief about them. Lightning's comments often make Mater say that Lightning was also there. Sometimes, Lightning gets into trouble depending on the story's subject, such as being trapped in a burning building in Rescue Squad Mater, unable to reach the end of Carburetor Canyon in Mater the Greater, and being chased by bulldozers in El Materdor. Otherwise, he would help Mater on numerous occasions, such as taking out Kabuto's ninjas in Tokyo Mater, arrest Big D in Mater Private Eye, and catch a falling Mater in Air Mater. However, Lightning never believes that these stories ever happened, due to the fact that he knows he would not have been present, but he would then usually see someone or something that comes from Mater's stories, leaving him either shocked or confused. However, there are a couple of times where he fails to see these, such as when he fails to see Mater fly at the end of Unidentified Flying Mater (due to trying to get away from the noises Mater was making), and does not see his biggest fans, Mia and Tia, cheering for Mater like how they did in Mater's story in El Materdor (due to that he himself was being chased by a herd of bulldozers).
In the second film, Lightning returns, but as the deuteragonist.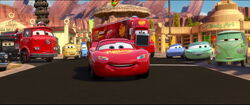 After he won his fourth Piston Cup, Lightning comes back to Radiator Springs, where the townsfolk are happy to see him return, especially Mater. While Lightning is spending time at the Wheel Well Motel with Sally, Mater makes a call to the Mel Dorado Show when it features Miles Axlerod, who is aiming to promote a fuel called Allinol for improving clean energy by hosting the World Grand Prix. Lightning intervenes and accepts the deal to be one of the racers, along with bringing Mater along following advice from Sally.
Getting a new paint job for the World Grand Prix, Lightning travels to Tokyo with Mater, Luigi, Guido, Fillmore, and Sarge in time for the opening ceremony. On the journey, Lightning and Mater are enjoying their time together: watching a game show on their plane's television, amazed by Tokyo's neon signs, and attending a karate show. At the opening ceremony, Lightning meets up with fellow racers Lewis Hamilton and Jeff Gorvette, but he soon notices that Mater has been acting the same since living in Radiator Springs, and tries to explain that he should change his behavior so to get used to all the different things outside Radiator Springs. However, Mater does not completely understand, deciding to help Lightning by introducing him to Italian racer Francesco Bernoulli. Although reluctant by this, Lightning is forced to mention to Francesco that it is an honor for them to meet. They both agree to have a toast, but both of them make the same dedication of their own win in the initial race to Sally. Additionally, Lightning turns against Francesco, determined to beat him in the race the following day. To make matters worse, Lightning's interview with Axlerod in front of the press is disrupted by Mater rushing to the fountain after taking a huge amount of wasabi. McQueen gets even more worried when he sees what appears to be Mater leaking oil in public (which is actually Miles who did it), and orders him to go and sort himself out right away.
Moments before the first race begins, Lightning makes his usual preparations, closing his eyes and talking to himself about keeping focus, only for Francesco to immediately mock him by making the same preparations. Annoyed, Lightning once again comments about his goal to beat Francesco. As the race begins, Lightning makes his way up the field, getting up to second place and behind Francesco. However, Lightning is not able to get past Francesco until they come up to the dirt section, where Mater, who is working as Lightning's crew chief, gives him the advice of using the same trick Doc had taught him. With Francesco struggling to drive on the dirt, Lightning makes an easy pass at the following chicane and takes the lead. However, drama occurs as a couple of the racecars flame out, leaving fans wondering if Allinol is responsible for the accidents. Next, Lightning begins hearing random words from Mater through his team radio, unaware that Mater is actually talking to someone else who tampered with his radio, even asking her if she likes flowers. Still being confused by Mater's words, Lightning moves to the outside of the loop up to Rainbow Bridge, enabling Francesco to snatch the lead. Shocked by what happened, Lightning goes after Francesco and goes side-by-side with him as they head towards the finish line. However, Francesco is able to cross the finish line first, while Lightning finishes second.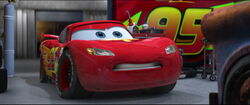 Feeling dissatisfied, Lightning is left wondering why this all happened, as Francesco brags during the podium interview about making a move whenever someone makes a mistake. Just then, Lightning notices Mater driving to the pits, and when no one is looking, he sneaks out of the podium interview and confronts Mater in their pit, asking him why he was talking nonsense throughout the race. Mater explains that he had been away from the track because he heard a woman's voice talking to him out of nowhere and directing him through the streets, where he had seen a couple of cars involved in a fight and using flame-throwers. Lightning is still enraged and doesn't believe those words, reprimanding Mater for his actions, telling him that it is all his fault for making him lose the race and that he should not have brought him along so he could spend time "imagining" a girlfriend and watching people using flame-throwers in fights. Realizing what Lightning meant, Mater tries to make up by suggesting to talk to someone about what happened and that he can help, but Lightning, still too angry, berates Mater, declaring that he does not need, rather want any help from him at all, and he storms off, leaving Mater heartbroken and guilty for what he has done.
The next day, Lightning finds a note from Mater saying that he has decided to head back home following the confrontation, not wanting to be responsible ever again for making him losing any future races. However, Lightning becomes completely ashamed of himself, as he did not mean for Mater to leave. Despite being relieved that he would know Mater would be safe being in Radiator Springs, Lightning still regrets his outburst, thinking that he should not have been too hard on him. Arriving in Italy, Lightning and his team come across Luigi and Guido's old hometown, Carsoli, where the latter two are proud to be reunited with Uncle and Mama Topolino. The whole village hosts a celebration of Luigi and Guido's return, but Uncle Topolino begins to notice how down Lightning is. Having been told the whole thing by Luigi, Uncle Topolino explains to Lightning that everyone, even best friends, get into fights, as he remembers Luigi and Guido fighting all the time when they used to live with him.
Meanwhile, many of the fans of the World Grand Prix are still wondering if Allinol is safe, leading to Axlerod telling them that the fuel has been examined and is proven to be safe, leaving the second race to remain, taking place in Porto Corsa. However, Team Lightning McQueen begin to notice that Lightning feels sad. Fillmore advises him not to worry about his fuel, but Lightning admits that he is actually missing Mater. Furthermore, he gets insulted by Francesco saying that he is glad to be at home with his mother and fans. As the race goes ahead, Francesco soars into the lead as Lightning follows, trying to make numerous moves such as at the town's hairpin. On the final lap, Lightning temporarily leads, but as they approach the finish line, he and Francesco begin fighting for the lead, ending with Lightning crossing the finish line just ahead of Francesco. With this, Lightning celebrates his victory, but it immediately ends as numerous ambulances rush past, making Lightning and Francesco notice on the television screen that the other racecars have crashed out as a result of their fuel blowing up once again. This leads to everyone now completely concerned about its safety, which makes Axlerod decide that the last race in London will still be held, but no longer to be run on Allinol.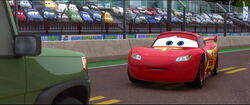 Lightning, however, feels that it is impossible for something like that to occur, furthermore declaring that he will be using allinol for the final race. Soon, as a press liaison is leading him to the press, Lightning starts to hear Mater's voice from somewhere in the crowd. Taking another look, he sees a flash of Mater's roof in the distance, while the photographers try to get his attention. Trying to get closer, Lightning moves through the crowd, as the press liaison calls out to come back. However, as all the photographers finally move out of the way, Lightning instead finds a blue tow truck known as Ivan, saying that it was him who called out. As the press liaison takes him away, Lightning starts to get confused, pretty sure that he saw and heard Mater in the crowd. Before heading to London, Lightning contacts Radiator Springs so to talk to Mater, but he finds out that Mater had not been there at all. As he comes to his pit stall, he finds Sally and the rest of his friends present, having heard about what happened. While Sarge leaves with Sheriff to search for Mater, the rest of the townsfolk stay behind to assist Lightning in the race. However, still feeling concerned about Mater, Lightning is unsure about if he can keep his focus on the race, but Axlerod comes to thank him for his decision to use Allinol, encouraging him to prove to the world that they had been wrong about it being unsafe. Plus, Sally advises him to do the race for Mater.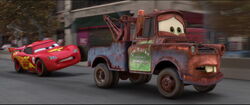 As the race begins, Francesco gets into the lead as they head up to the Victoria Memorial, but after they go through Admiralty Arch, Lightning snatches the lead. As Lightning soon comes in for his pit stop, he is glad to find Mater already there. However, in a panic, Mater drives onto the racetrack, ordering Lightning to keep away from him. Misunderstanding, Lightning chases after Mater, trying to tell him that what he said before no longer matters. Still panicking, Mater yells out that "he's the bomb", making Lightning believe that he is saying he is excellent. Again, Mater yells out to keep away, but Lightning refuses to listen, not wanting to lose Mater again, and grabs onto his tow hook, which causes Mater to activate a pair of rocket jets, making the two friends zoom along the track's straight, past a shocked Francesco, and go off the circuit at the following corner, zooming through the streets of London. However, Lightning declines Mater's request to let go, still not understanding what is going on.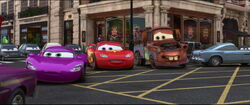 As the two friends finally screech to a halt, British secret agents Finn McMissile and Holley Shiftwell arrive, convincing Lightning that some thugs had planted a bomb on Mater so that they could try and kill them both, all because of Lightning's decision to use Allinol in the race. Lightning is left wondering who would do that to Mater, to which Finn brings in a captive Professor Zündapp, who angrily questions Lightning about why his electromagnetic pulse generator didn't kill him. Lightning is now left completely shocked by the fact that Professor Z had a death ray ready for him. Finn demands answers from Zündapp about how to deactivate the bomb, and as the bomb begins to tick, Professor Z reveals that the only way to turn it off is to get a voice command from the person who turned it on in the first place and that person is not him and he is shocked unconscious. To make matters worse, the thugs, who reveal themselves as lemons, block any chance of Lightning, Mater, Finn, and Holley escaping, to make sure the bomb goes off as Lightning notes they are the ones who want him dead which they confirm but states its not personal. Luckily, everyone from Radiator Springs show up and helps them defeat the criminals. As the remaining lemons try to flee the area, Sarge appears with the British military who presumably take the villains into custody.
With the lemons arrested, everyone tries to figure out a way to get rid of the bomb. Thinking of only one option, Guido makes an attempt to unfasten the bolts, but his wheel gun would not fit. Then, Mater figures out who had put the bomb on, but he does not reveal it straight away, worried that no one will believe him, but Lightning encourages him, telling him to just be his regular self and that anyone not believing him should instead change themselves, not Mater himself, and the two reconcile. With no time to lose, Mater grabs Lightning and heads off to Buckingham Palace, where Miles Axlerod is waiting with the Queen of England. With the Queen's bodyguards preventing Mater from getting any closer, Mater explains to them, Lightning, Finn and Holley that Miles Axlerod is the one who activated the bomb, remembering that the bomb is attached with the same bolts used on an old engine shown on a photo that Finn and Holley had got, also that old engines contain oil. Miles Axlerod, however, tries to tell everyone that none of this is true, but Mater keeps on talking, saying that Miles Axlerod is the leader of Professor Z and the lemons, trying to make the world dismiss alternative fuel and buy regular oil from a secret oil reserve, because they had been laughed at for their entire lives. As the bomb gets closer to detonation, everyone braces themselves, while Axlerod tries to take Mater's comments as lies, but as he is encountered by Mater, he is forced to make a voice command, which successfully turns off the bomb, and proves that Mater was right about everything.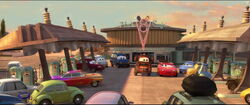 To congratulate his bravery, the Queen makes Mater a knight, which also makes him as popular as his best friend Lightning. As they arrive back in Radiator Springs, Mater tells Lightning and their friends about how he met Finn and Holley and helped them to learn information about Professor Z and the lemons. Just then, Finn and Holley arrive, paying Mater and his friends a visit. Lightning is also given the time to ask how come he didn't explode when the lemons were using their EMP emitter on him in London, but Finn and Holley point out that they also do not know the reason, but found out that Allinol was just gasoline upgraded by Axlerod to blow up when coming into contact with an electromagnetic pulse. Lightning then begins to realize that Fillmore had told him back in Italy that Allinol was safe, and everyone assumes that something had been done to Lightning's supply of Allinol before the race. Fillmore states that before the race, Lightning's supply was replaced by his own organic fuel, but that Sarge actually did it, not Fillmore.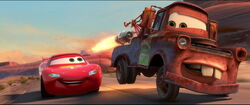 Later, Lightning invites all of the World Grand Prix racers to compete in Radiator Springs' unofficial Grand Prix, as a way to treat them to a great race, even knowing that thanks to the fate of the World Grand Prix, still no one knows who is the fastest in the world. Before lining up on the grid, Lightning has Francesco meet Sally, who is honored by Francesco's comment about Lightning being very lucky to be racing, especially when racing against his rivals. Not long before the race, Lightning adds to Sally to wish him luck, to which Sally knows he will be lucky enough to win. This time, Lightning and Francesco are calmer towards each other, both having grins as they battle for the lead, while the other racers are enjoying it. Not long after, Mater joins in, having been given his rocket jets by Finn and Holley, and he and Lightning happily race each other to the end of the Radiator Springs Grand Prix, as Finn and Holley leave for their next mission.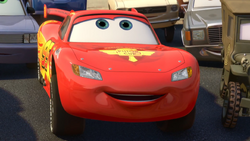 In Hiccups, after having a drink at Flo's V8 Café, Lightning gets the hiccups, which all of the residents try to help cure them. They eventually go away after Sally kisses Lightning on the cheek.
In Spinning, he notices Guido having great skills with spinning a sign, and watches along with a crowd consisting of some visitors and most of the residents. After Guido catches the sign from the air on a set of tires, Lightning and the crowd congratulate him, before they drive away.
In The Radiator Springs 500½, he dresses up as Stanley for the town's annual "Stanley Days" celebration, planning to do a leisurely drive with the townsfolk, until a group of Baja racers led by Sandy Dunes arrive to challenge him to a race, which he gets customized for off-road racing. However, during the race, Lightning and the other racers take a wrong turn after Mater confused them with saying that left is right when he actually meant that it is correct. Following this, they go over bumpy hills and a cliff, drive through a cactus patch, get covered in soot from some tailpipes in a cavern, and come across a spooky forest, where they get frightened by all of the corpses scattered around, before arriving back in Radiator Springs.
Lightning returns in Cars 3 for the second time as the protagonist.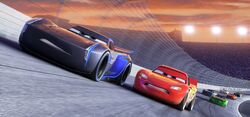 In the third film, Lightning has now won a total of seven Piston Cups, and has been racing in the Piston Cup for quite a lot of seasons, winning Piston Cup races alongside racers like Cal Weathers and Bobby Swift, who he has a good friendship and friendly, competitive rivalry with. However, during mid-season, a next-generation racer named Jackson Storm begins to win races, while many veteran racers, including Cal and Bobby, getting replaced by new racers throughout the season when they fail to win any more races. At the same time, Lightning also struggles to finish ahead of Jackson Storm. In most races like the Data Shift 400 he got 2nd place, in the Dinoco Light 350 he got 2nd and in the Gears and Glotry 450 he got 4th place. At the race at the Los Angeles International Speedway, when the two rivals pit, Guido changes Lightning's tires in time for him to come out of the pits and take the lead, but Jackson Storm shortly catches up to Lightning and retakes the lead, building up a long gap, while two other racers (Danny Swervez and Chase Racelott) easily overtake Lightning. In shock, Lightning tries to catch up by pushing as hard as he can, but both of his rear tires burn out and he loses control and suffers a terrible crash. Four months later, Lightning seeks help from new trainer Cruz Ramirez to learn some new tricks for challenging Jackson Storm in the Florida 500. In addition, Lightning is forced to make a wager with new Rust-eze owner Sterling: if he loses the Florida 500, he'll have to give up his racing career forever in favor of a spokesman for his brand.
Unfortunately, Lightning does not improve his speed. Instead, he spends most of the day helping Cruz get used to a sandy coastline outside the training center. Later, they go to a dirt track for inspiration, but accidentally compete in a demolition derby. Cruz wins the derby, and Lightning gets humiliated on national television. Lightning gets furious at Cruz for wasting his time and breaks her trophy. Cruz later reveals that she wanted to become a racer.
Later, Lightning is aware of Storm's new top speed record, even seeing his old rival turned announcer Chick Hicks berating McQueen's experience at Thunder Hollow and also realizing that his career might be over due to being ranked 95 percent on television. Disappointed, he calls Mater for advice. Mater suggests that he search for Smokey, Doc's old mentor. McQueen then begins to apologize to Cruz for his rudeness to her. Lightning and Cruz do so and find Smokey and some of Doc's old friends. Smokey tells Lightning that he is not the racer he once was and teaches Lightning and Cruz ways to outsmart Storm, knowing that even though he can't beat Storm, he can be smarter than him.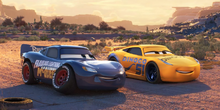 During the Florida 500, Lightning starts the race first and begins outmaneuvering next-gen racers to gain advantage. But after finding out that Sterling is sending Cruz back to the training center, and realizing that she has always wanted to become a racer, he decides to substitute Cruz into the race. Cruz then remembers advice both Smokey and Lightning gave her and finally manages to come into second place, behind Jackson Storm. Jackson Storm tries to ram Cruz against a wall, but Cruz flips over him and wins the race, though she and Lightning are credited with the victory, thus he wins the bet with Sterling and decides to continue racing, but before that, he has something he wanted to do first.
Later, back at Radiator Springs, Lightning gets a new paint job honoring Doc Hudson, and races Cruz around Willy's Butte. During the credits, Lightning spends the rest of the season as Cruz's crew chief, and the two enjoy their time together as a team.
In this short, Lightning and Cruz Ramirez watch a commercial for Miss Fritter's Racing Skoool. Later, after watching the commercial, Lightning notices one of Cruz's trophies topple and break, explaining to Cruz that going to Miss Fritter's school program is too dangerous to attend.
Cameos and other appearances
Lightning makes numerous appearances in commercials for other companies like State Farm Insurance, Target, AT&T, Hertz, and Opel, also promoting the Cars films. He also appears in a Russian advertisement that promotes road safety, where Mater is teaching a forklift how to cross the road safely.
As each short promoting Planes begins, McQueen and Mater are seen driving along, before they feel a vibration and look up to see some planes flying over them.
A band-aid of Lightning McQueen can be seen briefly in Finding Dory on a truck driver's hand to reference the very next film.
Lightning makes a cameo in Planes: Fire & Rescue, where a picture of him is seen on a newspaper that Sparky is reading with Dusty Crophopper and his friends.
In The Muppets, on a billboard above Hollywood, McQueen can be seen with Mater, Finn McMissile, and Holley Shiftwell advertising for Cars 2 coming to Blu-Ray, Combo Pack and DVD.
In a short combining Cars, LEGO and Top Gear, Lightning, Mater, and Cruz head to the Top Gear test track for a race against the Stig.
In Ralph Breaks the Internet, McQueen appears on a wallpaper advertising Cars, when Vanellope von Schweetz visits the Oh My Disney world.
An inanimate version of McQueen makes a cameo in the Amphibia episode "All In", as a car in a parking lot where the Boonchuys hide in.
Video games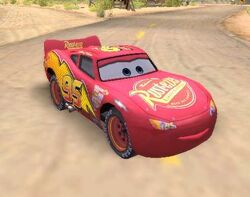 Lightning appears in the video game based on the first film, preparing to win his first Piston Cup. Throughout the story, he competes in races with other cars, goes tractor tipping with Mater, learns powersliding lessons from Doc, gets taught about driving backwards, and gets his gear back from the Tuner Cars, who were ordered by Chick to steal it. After that, he wins the next Piston Cup race and comes to an agreement to have three Grands Prix around Radiator Springs, before competing in the final Piston Cup race. He manages to win, and goes on a drive with Mater and Sally, leaving his trophy with Doc's.
Lightning appears in the cutscenes of the activities, encountering the Radiator Springs townsfolk. He is also controlled by the player in some of the activities and in all Legends Races.
In the Cars: Mater-National game, Lightning invites racers from around the world to take part in the Mater-National, which is supposed to take place while his racing headquarters is being built. He first comes across Philip, a British car who struggles to drive on the correct side of America's roads, and later races a German car named Otto Von Fassenbottom.
When he arrives in Tailfin Pass, he meets a Japanese drifter named Koji and challenges him to a race. Finally, he wins in a race that is held at the new racing stadium, competing against racers such as an Italian car named Giovanni. Luigi and Guido want them to race again, to which they agree to do a team relay. Afterwards, the headquarters is finished, and Lightning and the rest of the townsfolk and visitors get together for a photo.
Lightning is one of the playable characters in Cars: Race-O-Rama. In the story mode, he races with Doc's Racing Academy at the Radiator Springs Speedway. However, he finds out that the green cars who are competing against them are not racing cleanly after they purposely cause a couple of Doc's students to crash. It is learned straight away that the green students are working for Chick, who plots to win the Race-O-Rama series and take over Radiator Springs.
For each new location, Lightning gets his bodywork customized for racing against Candice, El Machismo, and Stinger, who try to help Chick. Finally, he challenges Chick to the final race at the Radiator Springs Speedway and wins the series. However, Chick vows to get back for his revenge. Meanwhile, Candice, El Machismo, and Stinger apologize to Lightning for their behavior, to which he allows them to stop by the Doc Hudson Racing Academy any time they want.
Lightning would appear around the town in the now-closed online game The World of Cars Online, outside his racing headquarters, where players can buy items from. Players were also to play as Lightning in the Lightning Storm McQueen minigame that puts him against a train version of Emperor Zurg from the Toy Story franchise.
Cars Toons: Mater's Tall Tales: The Video Game
Lightning only makes three appearances in the gameplay, compared to the clips from the episodes being used in the game. In the final level of Mater the Greater, rather than being at Carburetor Canyon, he appears in mid-air and falls down as the player prepares to make one last dive into a paddling pool. It would be assumed that Lightning fails to land in the pool since it is big enough for only one car. During the final level of Monster Truck Mater, after the player's character jumps off Dr. Frankenwagon's monster, Lightning appears out of nowhere while as a monster truck and follows the player around the arena as the monster tries to crush them. As the player completes the final level of Unidentified Flying Mater, Lightning joins the player, Mater and Mator as they get chased by the military, before being rescued by Mator's mother.
In the game based on the second film, Lightning helps out at C.H.R.O.M.E. to work for secret agents. He is playable from the start and has medium speed and power. He also has two unlockable customizations, Carbon Fiber Lightning and Radiator Lightning, which are unlocked by collecting certain badges and crests. To get the Carbon Fiber Lightning customization, the player has to collect twenty badges and crests so to collect the "Agent - Third Class" crest, while the Radiator Lightning customization is unlocked by hitting a landing airplane three times in Runway Tour. Two other customizations of Lightning can be downloaded on the PlayStation 3 and Xbox 360 versions of the game. These are Dragon Lightning (which is from Tokyo Mater) and Daredevil Lightning (which is from Mater the Greater).
Lightning appears in the Fancy Drivin' level, where he tries to find someone to compete in his racing team. Seeing that that someone is the player, Mater sets up a challenge to do fancy driving. After the level is complete, Lightning sees that the player has done some great driving and will be perfect for being added to his team. The player can also play as Lightning in the Cars levels by collecting all the Buddy Coins in each level.
Lightning McQueen is available as one of the playable characters in Disney Infinity. His figure comes with Holley and the piece for the Cars Play Set. In the play set, he and the townsfolk get ready for a racing event coming to Radiator Springs. A crystal figure of Lightning is also available to use in the play set and Toy Box. Both versions are compatible in the Toy Box of the second and third games, with the level cap increased to 20, and a Skill Tree added.
In the first game, Lightning has an exclusive Toy Box Adventure called Lightning's Collector Course, where the player has to collect orbs around a stunt arena.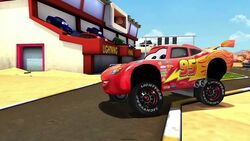 Lightning first appears as a character that the player plays as in two tutorials at the start of the game. He is the last character to be unlocked on the Radiator Springs map and will unlock his pit and the Doc Hudson Statue for putting around the town. Before he is unlocked, he also gives the player some missions that relate to races, such as winning a number of races with the selected character, perform a number of tricks, win races without crashing, or placing selected track pieces and decorations around the track.
He also has seven customizations that can be unlocked by winning practice races on his track or purchase them with gems. They are Retro Look, Champion, Winter, Speed Demon, ICE, Eastern Breeze, and Neon McQueen.
Lightning McQueen appears in Cars 3: Driven to Win. In the story, he uses a simulator at the studio filming Chick Hicks' talk show to do a race with Cruz, Smokey and Doc. When Chick begins to talk to the camera about Lightning's career, the latter reminds him and Natalie Certain about how racing is something to experience, only to find out, after Chick has Storm speak, that the studio has been recording everything, and is challenged by Storm to another race on the studio's simulator.
Lightning is one of the playable characters available from the start of the game, in his second Rust-eze paint job from Cars 3. He is also playable in his "Fabulous Lightning McQueen" paint job, that is unlocked with an update patch of the game released on various dates depending on when the film was released in the player's country.
Cars: Lightning League
Lightning appears as a playable character in Cars: Lightning League. He is the first character playable from the start.
Lightning McQueen appears as an unlockable character in the LEGO The Incredibles video game, being unlocked by a Pixar Family Build in Waterfront when the player completes all of the story missions in the game. McQueen can be used to compete in races, fight enemies, use jumps and ramps, and bounce on trampolines, but he cannot pull levers, grab onto ladders or ledges, compete in races that require flying characters, perform special attacks, pick up items left by robbers, build bricks, double-jump, jump onto bombs, turn handles, nor survive when in contact with the ocean. However, he does have the special ability of using his headlights in really dark areas that only characters with the power of light can access. He can also drive fast just like the other fast characters. Unlike other vehicles in the game, McQueen steers in a similar manner to humans.
His appearance is based after the Cars 3 Lego set 10730 Lightning McQueen Speed Launcher.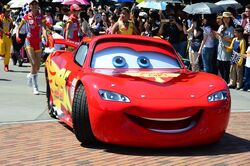 Lightning appears in Cars Land at Disney's California Adventure, as a "drive-around" character, and regularly stops outside the Cozy Cone Motel's office. He originally appeared in his World Grand Prix paint job from Cars 2, but was changed to his Cars 3 design in 2017. In addition, Lightning would also "talk" to the guests and interact with them every few moments. Beginning in 2018, throughout the Halloween season, Lightning dresses as a superhero.
During safety protocols in the park due to COVID-19, Lightning does not drive around and remains stationary next to the Stanley statue in front of the Radiator Springs courthouse.
An audio-animatronic version of Lightning appears in the ride Radiator Springs Racers, first with Sally Carrera as they greet the riders while heading into either Luigi's or Ramone's, and again at the end of the ride with Mater. He appears in his original Rust-eze paint job.
In Lightning McQueen's Racing Academy at Disney's Hollywood Studios, Lightning appears in animatronic form to offer guests advice on how to become a racer and employs the use of the driving simulators from Cars 3. When Chick Hicks hacks into the simulator, McQueen challenges him to a virtual race to settle their unfinished business.
He is seen in the Paint the Night Parade and Hong Kong Disneyland, and Disney California Adventure with Mack and DJ, and was seen with Mater in the Pixar Play Parade before it moved to Disneyland in 2018 for Pixar Fest. It is unknown whether or not he'll return to the parade in the future.
A statue of Lightning can be seen alongside one of Sally outside the entry to the Cars-themed building at Disney's Art of Animation Resort.
Relationships
Gallery
Trivia
His racing number was going to be 57 at first, as a reference to John Lasseter's birth in 1957, but the filmmakers later changed it to "95", referencing Toy Story's release in 1995.
Lightning is named after deceased Pixar supervising animator Glenn McQueen.
For some reason, Lightning is in his original Rust-eze paint job in the second film's teaser trailer, even though it never appeared in the film. However, it could be that the filmmakers did not have his new customization completed at the time.
One of the children in Toy Story 3 who plays in Sunnyside's Caterpillar Room wears a T-shirt that includes Lightning's bolt and racing number in the same style.
A toy that looks similar to Lightning can be seen in the Butterfly Room in Toy Story 3.
In the first film, Lightning noted the reason why he did not have any actual headlights was because he thought racers do not need them on a racetrack that is always lit with lights. However, in the second film, when he was being upgraded for the World Grand Prix, he decided to replace his headlight stickers with actual headlights, though Sally still calls him "Stickers".
When Lightning and Mater arrive in Tokyo in Cars 2, they notice an advertisement that shows a vacuum cleaner called "Lightning McClean" and have a good laugh over it.
Despite his dislike of Rust-eze in the first film, he does have his own commercial where he tells the viewer about the purpose of the ointment.
In spite of turning down Tex's offer to take on the Dinoco sponsor, "Dinoco McQueen" has appeared in several forms of merchandising and is even an alternate skin in Cars: The Video Game; those who play the full game with said skin creates the impression of the game taking place in a slightly alternate reality in which Lightning accepted Tex's offer.
Lightning McQueen is unique among the Pixar protagonists, as he does technically both lose and win. He gave up his Piston Cup title to Chick Hicks so he can help The King finish his last race, but it was meant as a lesson for him as he learned that helping others is more important than winning races and that his heroic actions made him earn applause from the crowd. Therefore, despite losing, McQueen is still considered the true winner of the eyes of his fans and his new friends from Radiator Springs, due to the actions of Chick Hicks (especially considering Chick cheated).
With seven Piston Cups won by the time of Cars 3, Lightning has reached the same number of championships won by the King himself before his retirement.
In Cars 3, it was mentioned that McQueen got his first win in Glen Allen Speedway during his rookie years prior to the events of the first film.
When McQueen thinks of wanting the Dinoco sponsorship, his successes are that he would be taken for a photoshoot with his trophy, being on different media magazines, going to the Chinese Theater in Hollywood with Mia and Tia as their new celebrity, starring in a fictionalized car-ified movie as "Lightning Storm" in which he is a racecar and a superhero with fighter jet characteristics who has to stop alien tripod spark plugs from invading Earth, and living in his own penthouse in Hollywood with modified magwheels and with Mia and Tia being colored gold.
Lightning's first name is different in several languages:

In the Spanish and Latin Spanish versions, he is called Rayo McQueen,[3] which "rayo" is the Spanish meaning of the words "lightning", "beam", and "ray."
In the French and French-Canadian versions, he is named Flash McQueen.
In the Polish version, his first name is Zygzak (z-ih-g-z-ah-k). This means "zigzag" in Polish.
In the Danish version, he is named Lynet McQueen. "Lynet" means "the lightning" in Danish.
In the Dutch version, his first name is Bliksem, which means "lightning".
In the Italian version, his first name is changed to Saetta, which is the Italian word for "flash of lightning".
In the Swedish version, he is renamed Blixten McQueen. "Blixten" is the Swedish word for "the flash".
In the Albanian version, he is called Vetëtima McQueen. "Vetëtima" means "lightning" in Albanian.
In the Brazilian Portuguese version, his first name is changed to Relâmpago, which means ''lightning''.
In the European Portuguese version, his first name is changed to Faísca, which means "spark".
In the Finnish version, he is named Salama McQueen. "Salama" means "lightning bolt" in Finnish.
In the Hebrew version, his first name is changed to Spidi, which means "Speedy" and is a reference to the Looney Tunes character "Speedy Gonzales".
In the Hungarian version, he is called Villám McQueen, which means "lightning".
In the Romanian version, he is called Fulger McQueen, which means "lightning".

As a result of Lightning's first name being translated in several languages, most appearances of the name "Lightning McQueen" in text, across the entire Cars trilogy, get simply shorten down to simply "McQueen" in international cuts of the movies.
The same scream that McQueen was on the simulator in Cars 3 was the same scream that Mater was deploying parachute while travelling to Buckingham Palace in Cars 2.
McQueen's theme songs that match his personality is Real Gone by Sheryl Crow and Run That Race by Dan Auerbach. In fact, "Real Gone" alludes to McQueen's cocky personality about wanting to win the Piston Cup, while Run That Race alludes to McQueen having fun racing in the Piston Cup with his friends Cal and Bobby, all while pulling jokes after each race.
Throughout the first film, Lightning had fourteen different appearances, counting the different amount of dirt and dust he received in several scenes.[4]
His catchphrase, "Ka-chow!", is said briefly by Mayday in Planes: Fire & Rescue, when he is showing some Rust-eze Medicated Bumper Ointment on his bumper. The Home video subtitles reveal he's sneezing.
A life-size Lightning McQueen is preserved at the Petersen Automotive Museum.[5]
A 1:55 scale die-cast of Lightning McQueen, with Chick Hicks and Brush Curber, appears in one of the exhibit elements at The Science Behind Pixar.
In the book, Cars Origins: Struck by Lightning, Lightning reveals that his original name was "Monty", short from ''Montgomery'', and that "Lightning" is a nickname he acquired.[1]
In all three Cars movies, Lightning does not directly win any of the main races in the movies due to forfeiting the win to help King, having the race interrupted by the Lemon's scheme, and switching out with Cruz in the second half, although he is still branded as the winner due to sharing the same number as Cruz. Because of this, as stated in Trivia question #10, McQueen is unique among the other characters due to his role and that there are more important things to life than winning.
Foreign Voices
Sakis Rouvas (Greek)
Ofer Shechiter (Hebrew) (Cars and Cars 2)
Yuval Segal (Hebrew) (Cars 3)
Hiroshi Tsuchida (Japan)
Espen Sandvik (Norwegian)
Roland Tóth (Hungarian)
Marcelo Garcia (Portuguese (Brazil))
Dmitry Kharatyan (Russia)
Kuno Becker (Spanish (Latin America))
Guillermo Romero (Spanish (Spain))
Martin Stenmarck (Swedish)
Richard Krajčo (Czech)
Jan Lamb (Hong Kong)
Alex Marshall-Ducker (Arabic) (Cars and Cars 2)
References
External links
Note: Lightning McQueen is supposed to be listed by his first name, not last name.
v - e -

d

Disney
Mickey Mouse & Friends:

Mickey • Minnie • Donald • Daisy • Goofy • Pluto • Fifi • Pete • Clarabelle Cow • Horace Horsecollar • Willie the Giant • Chip and Dale • Mortimer Mouse • Chief O'Hara • Detective Casey • Butch the Bulldog • Golden Harp • Father Time • Peter Pig


The Lion King: Simba • Nala • Shenzi, Banzai, and Ed • Ostrich • Gazelle • Rhino • Hippo • Zebra • Blue Beetle • Grub • Zazu • Rafiki • Timon • Pumbaa • Mufasa • Scar
Tangled: Rapunzel • Flynn Rider • Stabbington Brothers • Pub Thugs • Attila • Vlad • Big Nose • Hook Hand • Ulf • Shorty • Pascal • Maximus • Mother Gothel • The King • The Queen • Captain of the Guards • Warthog • The Lantern
Wreck-It Ralph: Ralph • Vanellope • Felix • Sgt. Calhoun • King Candy • Taffyta Muttonfudge • Candlehead • Surge Protector • Gene • Nicelanders • Rancis Fluggerbutter • Other Sugar Rush Racers • Sour Bill • Blue Racer • General Hologram
Big Hero 6: Hiro Hamada • Baymax • Robert Callaghan • Go Go Tomago • Honey Lemon • Wasabi • Fred • Fred's Dad • Tadashi Hamada • Cass • Yama • Alistair Krei • Heathcliff • Abbigail Callaghan • Attila • Sergeant Gerson • Cass
Zootopia: Judy Hopps • Nick Wilde • Flash • Clawhauser • Gazelle • Yax • Bogo • Mayor Lionheart • Bellwether • Doug • Finnick • Mr. Big • Mr. Otterton • Manchas • Gideon • Jerry Jumbeaux Jr. • Nanga • Priscilla • Mr. Hopps • Mrs. Hopps • Business Lemming • Duke Weaselton • Fru Fru • Kozlov • Officer McHorn • Wrangled • Wreck-It Rhino • Pig Hero 6
The Jungle Book: Mowgli • Kaa • Baloo • Akela • Raksha • Gray • Shere Khan • Colonel Hathi • King Louie • Bandar-Log Monkey • Flying Squirrel • Crocodile • Peacock • Vulture • Elephant • Bee Hive
Alice Through the Looking Glass: Alice Kingsleigh • Dormouse • Tweedledee and Tweedledum • Cheshire Cat • Bandersnatch • Bayard • White Queen • March Hare • White Rabbit • Mad Hatter • Absolem • Time • Wilkins • Humpty Dumpty • Red Queen • Borogrove • Frog Delivery Man • Gentleman Fish • Vegetable Soldier • Vegetable Servant • Vegetable Executioner • Armored Chess Piece
Pirates of the Caribbean: Jack Sparrow • Will Turner • Elizabeth Swann • Joshamee Gibbs • Tia Dalma • James Norrington • Marty • Cotton • Bootstrap Bill Turner • Pintel • Ragetti • Angelica • Blackbeard • Prison Dog • Maccus • Davy Jones • Helmsman • Philip Swift • Syrena • Captain Salazar • Ghost Lesaro • Shansa • Henry Turner • Carina Smyth • The Redhead • Murtogg • Mullroy • Treasure Chest • Stray Cat • Tiny • Pirate With Pigs • Ghost Shark • Ghost Seagull • Auctioneer
Aladdin: Aladdin • Jasmine • The Sultan • Prince Achmed • Gazeem • Razoul • Rajah • Iago • Abu • Genie • Jafar • Magic Carpet • Pink Flamingo • Beggar Jafar • Golden Scarab Beetle • Magic Lamp • Snake Charmer • Golden Camel
The Nightmare Before Christmas: Jack Skellington • Sally • Lock, Shock, and Barrel • Oogie Boogie • Easter Bunny • Santa Claus • Behemoth • Wolfman • Corpse Family • Mummy Boy • Mayor of Halloween Town • Dr. Finkelstein • Jewel • Zero
Mulan: Mulan • Yao, Ling, and Chien Po • Fa Li • Fa Zhou • Hayabusa • Khan • Cri-Kee • Little Brother • Mushu • Shan Yu • Captain Li Shang • The Emperor of China • The Matchmaker • General Li • Grandmother Fa • First Ancestor Fa • Chi-Fu • Great Stone Dragon
Moana: Moana • Sina • Frigatebird • Chief Tui • Gramma Tala • Pua • Frigatebird • Kakamora Chief • Maui • HeiHei • Ghost Matai • Eel • Tamatoa • Frog Monster • Sloth Monster • Eight Eyed Bat • Chicken Feed • Maui's Hook • The Ocean
Beauty and the Beast: Belle • Maurice • Chip Potts • Mrs. Potts • Gaston • LeFou • FrouFrou • Chapeau • Plumette • Beast • Cogsworth • Lumiere • The Enchantress
Lilo & Stitch: Lilo Pelekai • Nani Pelekai • David Kawena • Mrs. Hasagawa • Mertle Edmonds • Stitch
DuckTales: Scrooge McDuck • Donald Duck (Classic) • Huey, Dewey, and Louie • Webbigail Vanderquack • Mrs. Beakley • Beagle Boys (Big Time, Burger, and Bouncer) • Gyro • Darkwing Duck • Falcon Graves • Pixiu Chinese Dragon • Peghook's Ghost • Launchpad McQuack • Hack and Slash Smashnikov • Gizmoduck • Shadow Magica • Ma Beagle • Flintheart Glomgold • Pharaoh Toth-Ra • Headless Man-Horse