This page contains or is about mature content.
It may not be suitable for all readers.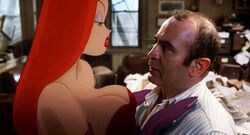 This is a list all of uses of adult humor in live-action media produced by Disney, including Marvel, Lucasfilm, and 20th Century productions. Adult humor may include sex (or anything mildly sexual), nudity, drug content, strong language (or implication that someone is going to or wants to use strong language), graphic violence, and any other inappropriate images.
Disney films
Touchstone Pictures
During the opening cartoon short, as Roger Rabbit bursts out of the ironing board, a dozen knives land around him, and one butcher's knife narrowly misses his crotch. Also, the oven's brand that Roger falls into during said cartoon is called "Hotternell", a pun on the phrase "Hotter than Hell."
As Baby Herman is leaving the set for his current film, he briefly flips the bird at the cutout of his mother, and when he passes beneath a woman's skirt, she lets out a loud wail with Herman extending his middle finger again, heavily implying that he touched her somewhere inappropriate (with him politely responding, "'Scuse me, toots!").
At one point, Yosemite Sam rockets out of Toontown, his clothed butt on fire, and he shouts: "Ow! My biscuits are burnin'! Fire in the hatch! Great horny toad, that smarts!" until he sits in a mud puddle, dousing the blaze.
While outside the Ink and Paint Club, Eddie Valiant hears Marvin Acme calling Jessica Rabbit to get on a bed with him. He then takes photographs and hears Marvin repeatedly yelling, "Patty cake!", getting faster and more excited every time he says it, with Jessica moaning. When he witnesses the "patty cake" fiasco, he says in shock "You gotta be kidding me!" Though it was a literal game of patty cake in the end (regarding the photos taken by Eddie), the likely implication is that in the Roger Rabbit universe, that is how toons have sex.
At one point, R.K. Maroon offers Roger some booze to drown his sorrows over Jessica, and after Roger drinks the alcohol and rockets around the room, Eddie says, "Son of a bitch!", uncensored. This booze gag is repeated later in the film when Eddie saves Roger from Judge Doom's clutches.
When Eddie is sneaking Roger into the bar, Dolores asks him, "Is that a rabbit in your pocket, or are you just happy to see me?" This is a parody of the saying: "Is that a gun in your pocket, or are you just happy to see me?", which means if the one being asked either has a gun or an erect penis.
When Jessica is asking Eddie to find Roger, his pants suddenly fall down. Dolores then walks in and assumes Eddie is cheating on her with Jessica because she literally caught him with his pants down. As Eddie pulls his pants up, his head accidentally bumps Jessica's bosoms.
When Benny the Cab arrives to give Eddie and Jessica a lift, his eyes/headlights follow Jessica's sexy figure, and he remarks, "Hubba, hubba, hubba!" before opening his door to let Jessica in.
While searching Jessica for Marvin Acme's Will, Greasy reaches down into her breast cleavage, where he gets his hand caught in a bear trap. Eddie compliments Jessica with, "Nice booby trap."
When Eddie is singing "The Merry-Go-Round Broke Down", making most of the weasels laugh themselves to death, he sings: "I'm through with taking falls. I'm bouncing off the walls. Without that gun I'd have some fun, I'll kick you in the..." (a vase falls on him before he could finish the line). Roger then yells, "Nose!" and when Smarty says, "'Nose'? That don't rhyme with walls!", Eddie responds, "No, but this does," and kicks him in the crotch as he goes flying into the Dip (Eddie was going to say "balls", a slang word for testicles).
When the toon bullet train crashes into the Dip Machine, each window on the train is shown to depict a murder or death taking place.
When the cartoon characters gather around Judge Doom's melted body, they all wonder what he really was, and then all claim what he wasn't. Sylvester the Cat says he wasn't a pussy, a double entendre, as "pussy" is a crude term meaning vulva, or simply another word for cat/idiot/coward.
When Scott Turner shows Hooch around his house and runs through rules, he tells Hooch "You will not lift your leg to anything in this house" as they are in the kitchen. This means that Turner is telling Hooch not to urinate in the house.

Also, when Turner shows Hooch his bedroom, one of the rules are "No sniffing of crotches".

After being left home alone, Hooch is seen drinking cans of Miller's beer from Turner's fridge.
When Ernest P. Worrell is dancing with Trantor, the troll he had awoken from underground (and whom had become bigger and stronger), he kisses Trantor at one point, only to get slobber on his lips and express disgust, though this actually defeats Trantor.
When Eddie Souther tells Deloris Van Cartier that she would be hiding from Vince in the covenant, Deloris refuses, saying, "These people don't even have sex!"
On her first day at the covenant as Sister Mary Clarence, when Deloris tastes the lunch, she expresses her disgust at the food, saying: "Gee, what are you people? A Pridikin order? This stuff is terrible! It tastes like sh–", but before Deloris can finish, Reverend Mother tells the nuns they would spend the remainder of the day in silence and Deloris' plate taken from her, forcing her to take a ritual fast.
When Deloris and the other nuns are discussing covenants and Deloris tells the nuns about life at her 'covenant' in Reno, she says "[she] ministered to a lot of different kind of people," including hookers and gamblers. Deloris is about to tell the nuns a story about a "hooker living next door named Buckwheat Bertha who would-", but stops when Reverend Mother arrives.
When the nuns express their excitement at the Pope coming to St. Katherine's to watch the choir perform, Deloris says, "It's better than sex." When the nuns are confused by her words, Deloris corrects herself, saying, "I've heard".
As Deloris leaves for the bathroom, Eddie asks her where she's going, to which Deloris answers, "I'm going to the nun's room, nosy."
When Vince LaRocca sends his henchmen Joey and Willy to kill Deloris, she prays to God, asking him to forgive Joey and Willy. After concluding her prayer, she escapes by whacking Willy and Joey in their crotches.
Disney Channel Original Movies
After Eileen leaves to check on Ren, Louis, and Donnie, Beans asks Steve if he wants to go skinny dipping.
At one point, Beans reveals he gets gassy in the morning and once farted in Louis' face. He later mentions feeling gassy while aboard a helicopter. When he first mentions it, Eileen claims that he did aboard a plane.
When Beans misinterprets the expression "bringing the bacon", he attempts to say his own "expressions" to Miles, but Ren covers his mouth.
When Steve and Ren ask Beans why the campfire is out, he states that he awoke last night to go to the bathroom before realizing it.
Ethan asks We're not taking about laundry anymore are we?" to Marnie and gives her a suggestive, flirty look, which she returns.
When the Genie asks Ethan if he is okay, he mentions he got "Swept off his feet" the night before and the Genie gives a look as if she is thinking Ethan slept with Marnie the night before.
When Josh films his movie while Dylan is shopping outfits, Josh asks "So how long is this going to take?" as Dylan steps into a changing booth. Seeing that Josh is still recording with his camera, Dylan says "No filming in here!" and closes the curtain.
A running gag has Wynter describing what she will do to people that cross the werewolves, usually in gruesome detail, followed by her asking, "Too much?"
Marvel Studios productions
Lucasfilm films
When talking with R2-D2 after the astromech droid awakened for the first time since Luke Skywalker disappeared, C-3PO angrily asks R2-D2, "How dare you call me that?!", implying that he cursed at C-3PO. Though given that the droid makes sounds that only the characters can understand, it is unknown what R2-D2 said to C-3PO.
20th Century Studios films
When John Thornton leaves his cabin to try to stop Hal and his family from crossing a frozen lake, he exclaims, "Son of a–!", but slams the door before the rest of the sentence can be heard.
When Max Mercer expresses his frustration of his relatives, he says "I'm sick of this bullsh-", but stops after he spots an Elf on the Shelf doll. Max then says to the doll "We don't have to tell Santa about this, right Goobie?".
When the Mercers are leaving for the airport, a character exclaims "Son of a sandwich!".
Disney Channel series
In "The Happiest Show on Earth", at the end of the episode, Cory gets grounded for a month for sneaking off to Walt Disney World for Topanga without his parents' permission. His sister Morgan is shocked because she got grounded longer for swearing, and she utters the curse word out loud, which is bleeped, so her father grounds Morgan for two months and tells her to go to her room. Before she does, she tells her brother that what he did was sweet, and that she hopes a boy does that for her someday.
In the season 3 episode "Stevens Manor", after one of the guests at the Stevens' house upon it being turned into a bed and breakfast told Eileen Stevens on the phone that Louis (referring to her husband) broke his back (alluding to an incident where Beans tried to do a Japanese back massage on the other Louis while wearing boots), she paid a visit to the spa area that her husband was at while talking to Louis Stevens, with the other Louis being heard screaming after she closed the door, heavily implying that the guest was proceeding to torture the other Louis as revenge due to mistaking Eileen for a extramarital affair her husband was having. She later encounters the congregated family and sternly tells Eileen to "stay away from him!", alluding to the perceived affair, though Eileen and Steve misinterpreted the statement as her warning them not to worsen Louis Steven's back pain.
In "Food for Thought", when Raven and Eddie are discussing the huge cafeteria portions, Raven spends over a minute trying to get a huge hot dog in her mouth, in an extremely suggestive manner. Eddie soon remarks that he feels his "pants getting tighter".
In the series finale "Wherever I Go", Jackson's boss Rico makes him box a kangaroo. Right before, though, Rico hands Jackson a specimen cup and tells him that the kangaroo "fights dirty".
In "Curb Your Dragon", Alex turns herself into a cat. Then, when she turns back into her normal state, she is still seen licking herself. Justin comes over to get an up-close view and comments on the situation, forcing Alex to reluctantly stop with a guilty expression.
In "Can You Dig It?", Zack wears an Indiana Jones-style costume for a television interview and demonstrates his whip, which accidentally seizes the bikini top of a justifiably horrified off-screen guest.
In "The Defiant Ones", Cody and Bailey were apparently having some sort of "fun" the night before (even acting rather goofy in class the next morning), which is why Cody forgot to do his paper.
In "Driving Mrs. Dabney", Mrs. Dabney, while giving Teddy a driving lesson, angrily honks at another vehicle. The driver's (unseen) response leads Teddy to joke that he must think she's number one. Mrs. Dabney starts explaining what he is really saying (likely cursing) before Teddy cuts her off with a stern "I know!"
In "Dance Off", Teddy explains to Emmett that she feels it would be inappropriate for her to go to the dance with him because she thinks of him as a brother. Teddy then asks if Emmett heard anything she had just told him before he responds with, "Something about wanting to go to the dance with a brother."
In "Twin-A-Rooney", Parker requests for him to have the right to poop with the door open because, "Everyone in this house has changed my diaper; what are we running from, people?!"
In "Team-A-Rooney", Joey says that the last time Liv was in the shower, she used up all the hot water, which made it hard for him to shave. Parker then confesses that he took a shower with the hose out front. The other Rooneys glare at Parker in alarm, to which he retorts, "Oh, come on, it's not like the neighbors haven't seen that already!"
In "Steal-A-Rooney", Joey's boss at the Happy Carrot is revealed to be interested in meeting single moms (obviously blatant in meaning).
In "Girl Meets Boy", the librarian encourages Riley to read any of the books about boys and girls and what they say to each other. Except for the one Riley reaches for on her desk, which is heavily implied to be smutty.
In "Girl Meets Game Night", Maya, at one point, tells Josh that she understands he's too old for her, but "[she's] in it for the long game."
In "Girl Meets Flaws", Cory and Topanga express how excited they are to be home alone without the kids, and Cory starts kissing Topanga's neck. Topanga even suggestively remarks that he enjoys it.
In "Smells Like Camp Spirit", when there is a big pile-up on the ground and Emma lands front-first on Xander's back (with Lou and Hazel around them), he remarks, "I've had dreams about this, only I was much happier."

In a later scene, when the counselors are searching for a "contraband" phone, Hazel insists on frisking Xander several times, causing him to respond, "That's not a pocket, Hazel!"
In "Pilot", Marisa mistakes K.C. for being locked up in a room with a prom date, with the room being "ocupado".

In the same episode, the spyglasses are clearly shown to have x-ray vision. Later, when Marisa and her date realize they both have spyglasses, her date can be seen looking at Marisa's chest for about two seconds.
In "Crybaby Duran", Wesley believes that the dog that Sky's dad brought into Sky's room is his lost dog, Brisket. When he sees that the dog doesn't take broccoli, Brisket's favorite treat, he flips the dog over to examine its genitalia (the camera cuts to his face before we can see anything) and says "Plus, you're a girl".
ABC series
20th Television series
In "A Bird in the Hand", the children are all learning morse code. As a joke, Constance mockingly asks Reynie what she is typing. This is followed by Reynie appearing shocked and telling her that what she typed was inappropriate.
In the episode "Aloha – The Hello One", after seeing Dr. Clara Hannon dancing at the hospital, one of her colleagues points out that there's no problem with her dancing at work yet him "going all Magic Mike" on the hospital's Halloween party is treated as a problem he needs to resolve.
See also
External links