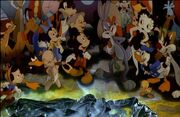 All the Toon characters on this list have either appeared physically or in another form in Who Framed Roger Rabbit. These characters had either appeared in animated features or cartoon shorts made by various studios, presented here.
Note: This list does not contain the characters mentioned in the film or the character cameos from the Roger Rabbit shorts, Tummy Trouble, Roller Coaster Rabbit, and Trail Mix-Up. Also planned were several cameos in the cancelled prequel Roger Rabbit II: The Toon Platoon.
Cameo appearances
Joker (the harlequin jack-in-the-box logo from Noveltoons)
Walter Lantz Productions
Terrytoons
Felix the Cat Creations, Inc.
Felix the Cat (in a picture and on the keystone of the tunnel that leads to Toontown)
Deleted/Unused Characters
Many additional characters were planned, or at least considered, for inclusion in the film but were ultimately omitted or dropped due to legal issues and/or production limitations. Others managed to appear or make it into the final film, but were either cut out or replaced later on during production and development.
Disney
Warner Bros.
MGM Cartoons
Western Publishing
Fleischer Studios
Terrytoons
DePatie-Freleng
Special Edition DVD Cameos
Numerous characters that did not make cameos in the film made a few on the menus of the Special Edition DVD.
Note: Most can be seen in the second disc.
(*) Denotes anachronisms; these characters (or, in the cases of characters such as Tinker Bell and Marvin the Martian, the animated versions of them that appear in the film) were created or adapted to cartoons after 1947. But as screenplay writer Peter S. Seaman said, "The aim was entertainment, not animation history." It also has been argued that the characters may have "existed" in the Toon world before being "discovered" and featured in real productions.
Trivia
Bugs Bunny and Daffy Duck also appeared with Donald Duck's nephews, the Muppet Babies versions of Kermit the Frog, Miss Piggy, and Gonzo, and Winnie the Pooh and Tigger in the anti-drug TV special, Cartoon All-Stars to the Rescue two years later in 1990.
The novel Who Censored Roger Rabbit? by Gary K. Wolf (novel on which the film is based) mentions original characters from American comic strips, including Dick Tracy (who was originally intended to appear in the film), Snoopy, Blondie and Dagwood Bumstead, Beetle Bailey, and Hägar the Horrible.[1] Bugs Bunny also appears and other characters such as Petunia Pig are mentioned.
References
External links
Community content is available under
CC-BY-SA
unless otherwise noted.