Wiki Targeted (Entertainment)
Play Sound
Lord Felldrake Sheldgoose is the main antagonist of Legend of the Three Caballeros.
Background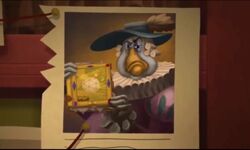 Felldrake was a dark sorcerer that sealed Xandra in her golden atlas, allowing him to build an army of monsters to conquer the cosmos. However, he was foiled by three knights, the original Three Caballeros, and sealed away inside of his own staff, while his magic ring and some of his other effects were stashed away in the collection of Clinton Coot. The staff was kept in storage in the Sheldgoose estate in a hidden room for many years. When his descendant Baron Von Sheldgoose bought the ring, it lead him to Felldrake's hiding spot. The trapped sorcerer offered the Baron power as long as he served as his representative and partner and they seek ways to free him from the staff and unleash chaos across the world.
His staff will often make a facial expression with how he himself is feeling.
Powers and abilities
Dark Magic: As a sorcerer, Felldrake is an extremely powerful dark wizard. He once placed a powerful and ancient curse that sealed Xandra in her magical atlas. Since being trapped in his staff, Felldrake's magic is completely limited as he is still capable of spellcasting, but it's not very powerful as he states he can destroy the mystical barrier if he wasn't imprisoned. His magic include brining his pet Leopard to life, generate light, generating various magical energy constructs (ranging from bubbles, a hand, animals, and beams of energy), his magic can also generate a bubble that generates air and sustain a person in space for months (without eating or drinking), transform small harmless creatures into giant dangerous monsters, control his own mystic barrier, and much more. When he was in his monster form his powers were increased to a greater level where he can bestow other magic, lift both objects and people and throw them around (giving him Telekinesis), project screens that allows him to spy on his enemies (giving him Clairvoyance), accelerate his aging process, even regeneration, and even warp reality.

Hypnosis: With Baron's singing voice, Felldrake was able to hypnotize the stone guardians to party and shrug off their responsibilities by simply singing.
Weakness
Magic Amulets: The original Three Caballeros used three mystic amulets that imprisoned Felldrake in his magic staff. Ironically the amulets also gave him his form back but in a demonic like-ness when he crushed them to create a magic liquid that help him regain his form. Even in his new monster form the amulets still had the power to reimprisioned him. The amulets are also what prevented the current Three Caballeros from going through his mystic barrier.
Equipment
Magic Staff: Feldrake wield a magic staff. After the original Three Caballeros imprisoned him, Felldrake was still capable of speech and spellcasting, but the staff couldn't move about on its own. His descendent Baron wield it to preform the spells, which were generated from the staff's eyes. Felldrake seems to have some ability to control the staff as he often hits Baron's head or changes it's facial expression. When talking the Staff's eyes glow purple. After Baron destroyed the staff it then trapped Felldrake in his body and return everything back to normal.
Magic Ring: One of the magic artifacts in Coot's shack, Felldrake had was what lead Baron to stumble upon the secret entrance to the basement where the Staff was hidden. It unknown what mystical properties the ring have other than revealing it's entrance and leading it wearer to the entrance.
Gallery