This article is about the Playhouse Disney series. For the 1998 film, see Safety Patrol.
"We're the Safety Patrol! We're here to help keep people safe."
―Lou and Louise

Lou and Lou: Safety Patrol is a series of shorts aired on Playhouse Disney. The series focused on the adventures of two siblings, Lou and Louise, as well as their dog, Louie. They also had an older sister, Lulu, and their Mom and Dad (known as "the Chief") were frequently seen on the series. They also had a regular friend named Lester. Although Lou would present his sister in the show's introduction as simply "Lou" also, she was insistent that her name is "Louise."
In each installment, Lou and his sister Louise serve as the Safety Patrol, giving viewers basic advice on how to keep safe. Topics included safety within the bathroom, while crossing the street and holding a fire drill at home. A one-off special, "Don't Catch the Flu," was also released during cold and flu season and focused on matters of hygiene such as blowing one's nose in the proper manner and washing hands.
The series was created and written by Craig Shemin, who also wrote Tasty Time With ZeFronk. The series was written for twenty installments in the main series, with Disney agreeing to add the special "Don't Get the Flu" following Disney's being receptive to Shemin's suggestion of using the characters to help kids control of spread of colds and flu.[1]
As of 2019, a number of shorts from the series are freely available in the Disney Junior section of Disney's streaming service.
Known shorts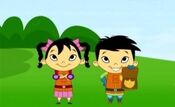 "These Streets are Made for Crossing"
"Race to Safety"
"Where There's Smoke"
"Beach Patrol"
"Buckle Down for Safety"
"Snow Business"
"Mass Transit"
"Field Trip"
"Hot Stuff"
"Camp Wanna Keep Ya Safe"
"Play it Safe"
"Get Ready, Get Set, Emergency"
"Lester is Lost"
"Home Sweet Home"
"Bath Time"
"Come on in, the Water's Safe"
"Home Safe Home"
"Paws for Safety"
"Rules to Live By"
"Safety First Aid"
"Snack to Basics"
"Stranger Danger"
"Don't Get the Flu"
External links
Lou and Lou: Safety Patrol on IMDb
Notes and references
Community content is available under
CC-BY-SA
unless otherwise noted.