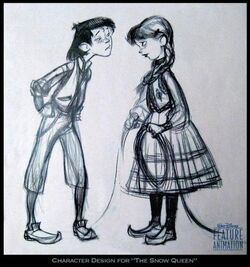 "Love Can't Be Denied" was a deleted romantic love song that was written for Frozen, before it became a less direct adaptation of "The Snow Queen". The song was not in the finished movie because the writer, Alan Menken, left the project.
Lyrics
Love can't be denied

Love must have its way

Once it gets inside

Love is there to stay

Once you let your heart awaken

Love can't be denied


Try to run and hide

Try to slam the door

Love can't be denied

Love keeps wanting more

Love won't let itself be shaken

No matter how I've tried


It flows through my veins

It burns beneath my skin

It calls my name

And says, "You fool! Give in!"


Tear inside the doubt

Cast away your pride

Love can't be kept out

Love can't be denied

Let yourself be overtaken

And swept before the tide


Love's the only thing

No one is above

I can love

That love can't be denied

Community content is available under
CC-BY-SA
unless otherwise noted.