"Low Pants Drifter" is the third segment of the fourth episode of The Shnookums and Meat Funny Cartoon Show.
Synopsis
Tex, Chafe, and Percy struggle to save themselves from falling into a forest fire when tied to a wagon filled with dynamite.
Trivia
First appearance of Floyd.
The title may be a pun on the Clint Eastwood western movie "High Plains Drifter".
v - e - d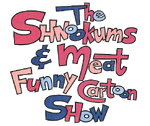 Characters
Shnookums and Meat • Toulouse • Pith Possum • Doris Deer • Obediah the Wonder Raccoon • Commissioner Stress • Lieutenant Tension • Dr. Paul Bunion • Easter Bunny Impostor • Shirley Pimple • Tex Tinstar • Smelly Deputy Chafe • Percy Lacedaisy • Floyd the Insane Rattlesnake • Wrongo • Ian and Clem • Krusty Rustknuckle
Community content is available under
CC-BY-SA
unless otherwise noted.