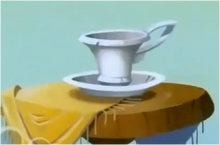 Mrs. Von Drake is the off-screen mother of Ludwig Von Drake. She lives near Ludwig's laboratory, and Ludwig has to keep down the noise of his inventions so as to not disturb his mother. Like Ludwig, she speaks with an Austrian accent, and makes use of the expression "kooky". She is voiced by April Winchell.
In "Time Reverser", Ludwig destroys his mother's priceless heirloom chinaware, to demonstrate how his time-reversing machine can reverse the damage, by traveling back in time to before the incident occurred. The invention, however, goes awry, and, left with only the shattered remains of his mother's tableware, Ludwig quickly goes out of his way to find some glue.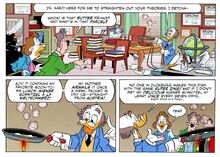 In Mickey's Magical Christmas: Snowed in at the House of Mouse (in a segment that was later re-used in "Pete's Christmas Caper"), she is heard shouting at Ludwig again, during his lecture on "The Science of Santa".
According to Wiener Schnitzel Woes (Walt Disney's Comics and Stories #732), Mrs. Von Drake lives in Austria, and airmails her son one of her "Wiener Schnitzel à la Weltschmerz" dishes every week when her son is teaching in Duckburg.