The Luggage is seen in Leroy & Stitch.
Version 1
First seen when Jumba was packing up to leave for his lab, this large blue-green crate is used for carrying large loads. It has two long gray hooks which raise about a meter in the air above the crate, these force large loads downward when the closing mechanism is activated.
Version 2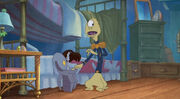 The same as version 1 but much larger and of a more blue tone. First seen when Jumba and Pleakley were packing to leave in Leroy & Stitch (for Pleakley's brick collection).
Version 3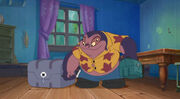 First seen when Pleakley was packing up to leave for G.A.C.C., this small silver device is used for carrying small loads. It consists of a clam-shaped opening propped up on three legs and a central cylinder. Out of the top reaches a metal bar which is used to hang various objects. When closing, the legs fold up as the cylinder and bar retract into the clam-shaped division for easy transport.