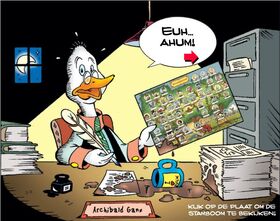 Luke the Goose
is the father of
Gus Goose
an uncle of
Donald Duck
.
He was created by Carl Barks, in a text-only Donald Duck family tree he sketched for personal use in the 1950s. Here, Barks intended him to be Gladstone Gander's father, Daphne Duck's husband, Grandma Duck's son-in-law and Gus Goose's uncle.
Luke made his first appearance on Mark Worden's illustrated version of the aforementioned tree (first printed in 1981). His appearance was based on that of a background character in Barks' Donald Duck comic Jet Witch (first printed in 1961).[1]
When Barks was asked to sketch out a Duck family tree again in the 1990s, making Goosetave Gander (who was originally Gladstone's adoptive father after Gladstone was orphaned when Luke and Daphne "overate at a free-lunch picnic") Gladstone's biological father and Daphne's husband. When Don Rosa created a Duck Family Tree (first printed in 1993), he used Luke again (removing the "the" in his name), and featured him as Gus Goose's father and the husband of Donald's Aunt Fanny.
On the Dutch interactive version of the Duck family tree, Luke was said to be a genealogist, and the creator of the Duck family tree.
Luke and Aunt Fanny made a brief cameo appearance in the streets of Duckburg in Dangerous Currency (2011).
Gallery
References
Community content is available under
CC-BY-SA
unless otherwise noted.