Lumpjaw is the main antagonist in the segment Bongo from the 1947 film Fun and Fancy Free.
Appearances
After Bongo and Lulubelle fall in love, the other bears who are watching them hear the ground rumbling and trees shaking as Lumpjaw approaches. Lumpjaw then emerges, portrayed as a big, mean, scary, tough bear. Lumpjaw sees Bongo and Lulubelle kissing with their noses and is jealous. He heads towards them to kill Bongo. After Lumpjaw grabs Bongo and punches him a couple times, Lulubelle steps between them to break the fight up, which she proceeds to do by slapping Bongo on the cheek, as this is the way that wild bears express love to one another. Bongo, however, grew up in the circus and does not understand this gesture, instead thinking that Lulubelle has rejected him. When Lulubelle tries to slap Bongo again, she hits Lumpjaw instead, causing him to think that she prefers him over Bongo. Bongo rides off dejected.
Later on, after Bongo realizes that domestic abuse is among bears, he returns to reclaim his love interest. Lumpjaw and Bongo get into a massive fight that eventually winds up with both bears hurtling over a waterfall. Bongo's hat catches on a branch while Lumpjaw falls into the river below to be washed away and presumably never seen again by the other bears.
Lumpjaw is referenced in the Storybook Circus area of Magic Kingdom's Fantasyland, appearing on a poster for one of Goofy's acts around the queue of The Barnstormer featuring The Great Goofini. The poster depicts Goofy as a bear wrestler, and that bear is Lumpjaw, who has evidently beaten Goofy handily, as he triumphantly stands over his opponent.
Gallery
Trivia
In an early concept art, he was originally going to wear clothes.
v - e - d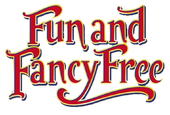 Disney Parks
Sir Mickey's
Community content is available under
CC-BY-SA
unless otherwise noted.