Luna Girl (also called Luna for short) is the secondary antagonist (sometimes an anti-hero) from the Disney Junior show PJ Masks. She is one of the nighttime villains. She is always followed by moths, known as Luna Moths, throughout the show.
Background
Luna Girl wants all the daytime things for herself and she'll have a terrible tantrum if she doesn't get her way! With the moths by her side, she takes to the skies on her Luna Board on a mission to retrieve all those fun day time fun things to do and to play with hoping the PJ Masks will just let her get on with it - but not so likely! She's heard shouting in frustration as she disappears above the rooftops.
Personality
Luna Girl is often portrayed as a greedy kind of person. She is often inconsiderate of what she steals and is boastful about what she is able to take as her own. Luna Girl can, however, be helpful and can be considered a good ally, depending on the situation.
Physical appearance
Luna Girl appears as a young girl with short and shaggy silvery hair that has a darker color at the tips. She has dark blue eyes, fair skin, and slightly rosy cheeks. She wears a black coat-like top that has a lunar eclipse, gray sleeves and pants, and black boots.
Trivia
In "Romeo's Disguise", she is shown to be a great artist.
In "Catboy and the Butterfly Brigade", she almost lost her friendship with the Moths, but they returned to her when Luna Girl became sad about replacing them with the butterflies.
Luna Girl appears for the first time in the first book of Les Pyjamasques "De Légende Des Pyjamasques" and in the twentieth book Les Pyjamasques et le Cadeau de Sorceline.
She is the only character in the series that was not changed when she was based on Romuald's books.

Luna Girl's design doesn't change much, the only difference is that her hair is completely white in the books.

She's good friends with Night Ninja, although they sometimes argue and blame each other for their faults.

However, after "Motsuki's Missing Sister," Luna Girl might not be friends with Night Ninja anymore after he trapped her in sticky splat, trapped her moths inside a cage, and even stole her Luna Magnet to open the Mystery Mountain pagoda.

She has grown quite fond of Gekko since Gekko Saves Christmas.
Most fans believe that Luna Girl will become good someday, but it hasn't happened yet.
Gallery
Gallery (Book Version)
v - e -

d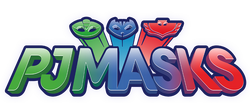 Shorts
"

Super Cat Speed

" • "

Super Gekko Muscles

"