"A magic carpet...!"
―An astonished Aladdin upon meeting the carpet

The Magic Carpet (better known as just Carpet) is a supporting character in Disney's 1992 animated feature film, Aladdin. He is a sentient Persian carpet whom Aladdin befriends while traversing the Cave of Wonders.
Background
Carpet was created a thousand years ago by the legendary sorcerer and carpet weaver Khuriya who created one-hundred Magic Carpets each with their own unique patterns and colors. On the day of his death he commanded his creation to go out into the world and find masters for them to serve. Carpet and his siblings went their own separate ways, with Carpet finding his way into the Cave of Wonders and becoming trapped in its treasure room. Because he was not part of the original forbidden treasures of the cave, his physical interaction with Abu did not provoke the cave's guardian. Having resided within the same home, Carpet had been good friends with the Genie (who remained trapped within his lamp in an exclusive chamber), a thousand years prior to meeting Aladdin.
Development
Carpet is known for being one of the first computer-animated characters in a feature film. His complex design was what forced the animators to design his pattern in computer animation. He was animated by Randy Cartwright. Randy animated the hands and feet (tassels) in traditional animation, while the rest of the character was computer-animated.
Personality
Despite being a carpet, Carpet is a character of many traits and pure of heart.
In the first film, he was a bit shy when he first encountered Aladdin and Abu but was curious enough to nervously fly over to investigate; eventually hiding once Aladdin first saw him or whenever Abu looked over. Aladdin had to coax him out of hiding, and soon, he quickly befriended Aladdin and risks his own life to save him. He happily joins Aladdin on his magical adventure to win the heart of Jasmine. One thing he does not enjoy is how Aladdin would not tell the truth about him truly being a street urchin, which was the only time he showed any annoyance towards Aladdin.
Over the course of the series, he has shown to possess an almost human level of intelligence, such as being shy, heroic, romantic, and unquestionably loyal.
He also seems to be very intelligent, as well as perceptive, more so than most other characters. He is usually the one that figures out what's going on before anyone else, though he has trouble expressing it to Aladdin and his friends due to his lack of ability to speak or make any sounds. On top of his intelligence, he is very compassionate but occasionally lets his kindness speak over his common sense. Also, unlike Genie, he doesn't take losing seriously.
In the end, he has been shown to have a strong bond with Aladdin, not only saving Aladdin's life on multiple occasions but also doing favors for him such as helping Aladdin and Jasmine fall in love, despite his distaste for Aladdin's lies. In return, Aladdin has said to trust him with his life (in Aladdin and the King of Thieves).
Appearances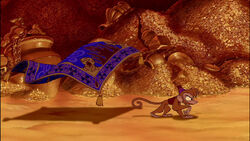 Carpet first meets Aladdin and Abu in the Cave of Wonders while they are looking for the Genie's lamp. Carpet teases Abu, who is scared and forces Aladdin to look. Aladdin gently coaxes Carpet out. At first, Abu is angry at Carpet and doesn't want him to come, but Aladdin calms him down and asks Carpet for his help. Carpet leads Aladdin and Abu through many twisting caves, and it is implied that Aladdin might never have found his way to the lamp without Carpet's guidance. As Aladdin goes to fetch the lamp, Carpet realizes that Abu is trying to steal the last temptation treasure of the Cave - a gigantic ruby in the hands of a large ape-like idol. When Abu grabs the jewel it melts into lava along with the idol, the cave starts to collapse, and Carpet tries to help them escape - of course intending to escape with them - but is pinned by a falling boulder. He manages to free himself in time to save Aladdin and Abu as Jafar throws them into the cave. When Aladdin frees Genie for the first time, Carpet shows that he knows the Genie.
After Aladdin wishes to become a prince, he returns to Agrabah - Carpet can be seen lying under him on top of the elephant Abu during the "Prince Ali" song. He also helps Aladdin to impress the Sultan.
Later, Carpet helps Aladdin win the heart of Jasmine by taking them on a carpet ride during the song "A Whole New World" - from a critical eye, Carpet is actually helping a great deal, since Aladdin does little steering. Carpet picks a flower for Aladdin to give to Jasmine and throws clouds to them. When Jasmine starts to guess at the truth, Carpet prompts Aladdin to tell her but is disappointed by him keeping up the facade.
When Aladdin wins Jasmine's heart and decides not to free Genie, he shouts at Carpet and Abu, both of whom leave, disappointed in him. Aladdin realizes his mistake and goes to tell Jasmine but without Carpet or Abu there it is easy for Iago to steal the lamp.
When Aladdin and Abu become imprisoned in a tower by Jafar and sent to the icy mountains, Carpet flies into the tower and helps them return to Agrabah to face Jafar and rescue Jasmine. In the film's final battle, he is unraveled by Jafar into one single thread but is restored once Jafar is trapped in his own lamp after Aladdin tricked him into becoming a genie.
Taking place sometime after the events of the original film, Carpet is still in Aladdin's possessions and is first seen assisting the street-rat in raiding the lair of Abis Mal and his goons. While flying back to the palace, Aladdin donates the stolen riches to the poor citizens of Agrabah.
Carpet disappears for a considerable amount of time, but during which, Aladdin and Abu run into the vengeful Abis Mal, only to be rescued by Iago, the devious pet parrot of Jafar. To repay the parrot, Aladdin takes Iago to the palace, but Jasmine is less than amused, causing a rift in their relationship. Carpet assists Iago and Genie (who returned from his travels to live with Aladdin and Jasmine) in restoring their broken bond, which succeeds. To appease the Sultan, Aladdin and Carpet take him on a flight to a quiet spot designated by Iago. This was actually a trap set by the returned Jafar, who forced Iago into assisting him once more. Carpet is captured by Jafar along with the Sultan and imprisoned within the palace dungeon along with Genie, Jasmine, and Abu.
The heroes are later freed after being spared by Iago, and they rush into battle against Jafar in the palace gardens. As Aladdin and Carpet rush to retrieve and destroy Jafar's lamp, the evil genie blasts Carpet with magic, turning him into a solid glass that shatters upon impacting the ground. Fortunately, Iago manages to destroy Jafar's lamp, undoing his magic including the spell cast upon Carpet. After his revival, he celebrates the restoration of Agrabah and welcomes Iago into the palace, alongside the other heroes.
Carpet appears as the main character in the film's spin-off television series, featuring prominently in several plots; on one occasion Aladdin's enemy, Abis Mal, stole and forced him to fly him to the location of a valuable treasure by threatening him with moths, while another episode featured him feeling dejected after the group met a race of sprites who allowed them to fly without him (Although he later proved his continued worth by tricking the sprites into settling the palace back in its original location after they got angry at the rest of the group and nearly allowed the palace to crash). He has a somewhat friendly rivalry with Genie as the two often play each other at various games such as chess (with Carpet, much to Genie's frustration, often winning). He proves to be somewhat fearless not caring how cruel or mighty their opponent might be, when Aladdin or one of his friends gets hurt, Carpet rushes into battle.
Carpet reappears in the film's final installment. In the film, Aladdin and Jasmine are finally getting married, but things become dangerous when the former and the palace family meet the forty thieves led by Aladdin's missing father, Cassim. Aladdin learns Cassim's location from an Oracle and travels on Carpet to the area with Iago and Abu by their side. Within, Aladdin is forced into battle against Cassim's rival Sa'Luk, as punishment for trespassing; in during which, Carpet is neutralized with a hefty thief sitting upon him. Aladdin nevertheless wins the battle and earns time along with his father, learning of his past.
Aladdin eventually convinces Cassim to return to Agrabah, and during their return, Cassim was openly disapproving of Aladdin owning a magic carpet, and using it as a mode of transportation, believing it to be dangerous compared to the traditional choice of horses. Aladdin nevertheless assures Carpet that his father will simply come around in time. By the end of the film, when Carpet saves the lives of Aladdin and Cassim during the climactic showdown at the Disappearing Isle, the latter shows a change of heart towards his son's enchanted companion.
In this special crossover event, Carpet and Aladdin battled the Greek hero-in-training Hercules after they were fooled to believe he had kidnapped Abu. Rivaling Hercules' flying companion, Pegasus, Carpet assisted Aladdin throughout the battle until it was discovered that Hercules was framed as part of the scheme concocted by Jafar and Hercules' nemesis Hades in an attempt to have the two heroes kill each other in combat. After the truth was revealed, Carpet and the others headed down to Hades' home in the Underworld to defeat the duo.
In this story, during a time where Aladdin and Genie are away, Carpet serves as Jasmine's personal assistant, tagging along with her on various royal events such as parades and openings in the bazaar, as well as making sure she keeps up with them all, whilst still being ever so loyal and friendly to her in the prices. Nonetheless, he appears to support Jasmine's dream of becoming more than a mere "peacock princess" and immediately lends a helping tassel when the prized horse of Jasmine's deceased mother escapes the palace due to Abu's accidental bumbling.
Carpet appears along with Jasmine in the episode "Two to Tangu", where he hears Jasmine whistling and he appears out of a tunnel and flies her with another Magic Carpet flying Sofia and Amber following him behind during the song "The Ride of Your Lives". Then he flies Jasmine back to Agrabah after saying goodbye to Sofia and Amber.
Other appearances
In The Hunchback of Notre Dame, Carpet makes a cameo during the song "Out There". He is seen under a man's arm straight after Belle's cameo.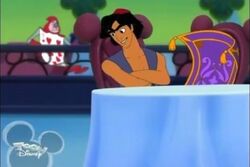 Carpet makes several cameos in the series House of Mouse. His most notable is in the episode "Donald Wants to Fly". In the beginning, he flies Mickey onto the stage. Later, he performs an incredible stunt even having Phil say to Hercules, "Whoa, you can't beat that rug!". In the episode "Donald's Lamp Trade", he rescued Donald from the basement after his attempt to steal the forbidden treasure. He also appears in the episode "Chip n' Dale" for a few moments as he helps them retrieve the nuts Goofy passed out.
In The Lion King 1½, Carpet made a silhouette cameo during at the end, in the cinema with Aladdin and Jasmine.
Carpet also made a cameo in the beginning of The Princess and the Frog. When Tiana is going to her second job, he is shown as the floor rug a woman is shaking out.
In Once Upon a Time in Wonderland, Carpet appears as a vehicle used by Jafar who established his base on a floating island in Wonderland. In a flashback, he is also used to capture Cyrus, during its fall caused by the Red Queen.
In Descendants: Wicked World, the carpet can be seen laid out on the floor in a shop on the Isle of the Lost. However, the carpet in the episode is missing the tiger heads in the corners and the tassels. Jordan, daughter of Genie, has a similar carpet in her Lamp, but in different colors. In the second season episode "Evil Among Us", Carpet can be seen as a museum exhibit in the Museum of Cultural History.
Carpet also appeared as an emoticon in the Aladdin entry of the As Told by Emoji short series.
In Moana, Carpet appears as a tapa that covers Pua during "How Far I'll Go".
Printed Media
In this book, Carpet's origins are revealed after he is stolen by two unknown figures, forcing Aladdin on an adventure to find his friend and discover his past.
In this novel, Carpet's initial meeting with Aladdin and Abu is the same as in canon, but when Jafar departs with the lamp and leaves Aladdin trapped in the cave, Aladdin, Abu, and Carpet must escape the cave on their own without the genie. However, when they attempt to rescue Jasmine from the palace, Carpet is trapped under a heavy pillar. Jafar cuts the Carpet into pieces in a scene that implies a torturous death, using his threads to make Jafar's key soldiers fly. As the book ends with the loss of all magic, the Carpet cannot be brought back.
Video games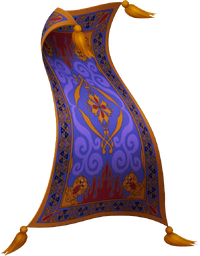 Carpet appears in the Kingdom Hearts game series, although his role is limited to appearing only in Agrabah. He is found within Aladdin's house in Kingdom Hearts and serves as an ally to Sora and his friends in Kingdom Hearts II and Kingdom Hearts 358/2 Days. In his appearances in Kingdom Hearts I and II, he serves mainly as transportation in Agrabah.
Carpet also makes an appearance in Kingdom Hearts 358/2 Days with Genie. A notable part about this appearance was how he was eerily able to see the connection between Sora and Roxas when he believes the latter to be Sora, although Genie dismisses it.
Carpet appears in Disney Infinity 2.0 as a rideable mount, being a rare Power Disc. He is also featured in Jasmine's special ability, "Windstorm", where he is summoned to defeat multiple enemies by creating a sandstorm.
Other games
Carpet's likeness is featured in Epic Mickey, with the Wasteland having its own version of the Magic Carpets of Aladdin theme park attraction.
Carpet only appears in the second act of the Broadway musical adaptation of the film, appearing in the musical number "A Whole New World" and its reprise during the end of the musical.
Unlike in the animated film and Aladdin: A Musical Spectacular, Carpet is not present in the scene where Aladdin enters the Cave of Wonders. Thus, he is portrayed as a lifeless prop in this particular adaptation of the film.
In World of Color, Carpet appears in the "A Whole New World" musical sequence along with Aladdin and Jasmine.
Carpet also played a significant role in the stage musical, Aladdin: A Musical Spectacular in Disney's California Adventure. Here, he was played by a female actress and acts alongside Genie as a comic relief. During the "A Whole New World" scene, she becomes a lifeless prop.
In the Aladdin-themed Enchanted Window display along Main Street, U.S.A., Carpet is seen desperately trying to prevent Abu from touching the Cave of Wonders' treasure.
Carpet also appears in "it's a small world" being ridden by Aladdin and Jasmine in the flying carpet area in the Asia section of the ride.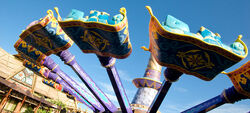 Carpet has an aerial-carousel ride named The Magic Carpets of Aladdin at the Magic Kingdom.
Carpet appears in the computer-animated show, Mickey's PhilharMagic, during "A Whole New World".
In Tokyo DisneySea, Carpet's aerial-carousel attraction is known as Jasmine's Flying Carpets.
At the Walt Disney Studios Park, Carpet's attraction appears under the name of Flying Carpets Over Agrabah. Models of Carpet also appear in Le Passage Enchanté d'Aladdin, in Adventureland.
Carpet appears in "it's a small world" being ridden by Aladdin and Jasmine in the Agrabah area in Middle East section of the ride.
Carpet appears alongside Aladdin in Voyage to the Crystal Grotto, both in the Aladdin-themed display, as well as the finale with Aladdin and Jasmine.
Gallery
Trivia
In The Return of Jafar, the TV series, and Aladdin and the King of Thieves, Carpet's design is less detailed due to the smaller budgets used during those productions.
Near the end of the song "One Jump Ahead", Aladdin and Abu jump onto a rug to escape from Razoul and the other guards and ride it to safety on the ground, foreshadowing Carpet's later presence.
According to Disneystrology, Carpet's birthday is November 7th.
In the first movie (and, by extension, both of the sequels and TV series), Carpet replaces the Genie of the Ring from the original story, who in the story remained with Aladdin even after the Sorcerer stole the lamp back.
Though technically genderless, Carpet goes by masculine pronouns, as indicated by Genie referring to it as "Rugman" in the original film.
While one of the first major characters animated in CGI, Carpet was preceded by Eilonwy's bauble from The Black Cauldron as a sentient object created in CGI.
Twice, Carpet gets destroyed by Jafar's evil magic only for it to come back to life once Jafar is defeated, in both the original film and The Return of Jafar.
v - e - d
Characters
Main Characters: Sora • Riku • Kairi • King Mickey • Donald Duck • Goofy • Roxas • Axel/Lea • Naminé • Xion • Aqua • Terra • Ventus


Villains: Xehanort • Ansem • Xemnas • Maleficent • Pete • Vanitas • Xigbar/Braig • Xaldin • Vexen • Lexaeus • Zexion • Saïx/Isa • Demyx • Luxord • Marluxia • Larxene • Terra-Xehanort • Young Xehanort • Xehanort's Guardian
Other Characters: Jiminy Cricket • Ansem the Wise/DiZ • Yen Sid • Master Eraqus • Dilan • Even • Aeleus • Ienzo • Lingering Will • Hayner • Pence • Olette • Kairi's Grandma • Riku Replica • Jiminy's Journal • Foretellers • Master of Masters • Luxu • Ephemer • Skuld • Chirithy • Lauriam • Elrena
Original Monsters: Heartless • Nobodies • Unversed • Dream Eater
Disney Characters introduced in Kingdom Hearts: Queen Minnie • Daisy Duck • Pluto • Chip and Dale • Huey, Dewey, and Louie • Magic Brooms • Alice • White Rabbit • Doorknob • Cheshire Cat • Queen of Hearts • Card Soldiers • Tarzan • Jane Porter • Clayton • Terk • Kerchak • Kala • Sabor • Hercules • Philoctetes • Hades • Cerberus • Rock Titan • Ice Titan • Aladdin • Abu • Jasmine • Genie • Carpet • Jafar • Iago • Peddler • Cave of Wonders • Pinocchio • Geppetto • Monstro • Cleo • Ariel • Flounder • Sebastian • Ursula • King Triton• Flotsam and Jetsam • Glut • Jack Skellington • Zero • Sally • Oogie Boogie • Lock, Shock, and Barrel • Dr. Finkelstein • Mayor of Halloween Town • Peter Pan • Tinker Bell • Captain Hook • Mr. Smee • Wendy • Crocodile • Merlin • Winnie the Pooh • Tigger • Piglet • Eeyore • Rabbit • Owl • Roo • Bees • Beast • Belle • Snow White • Cinderella • Fairy Godmother • Aurora • Pongo • Perdita • Dalmatian Puppies • Simba • Mushu • Dumbo • Bambi • Chernabog
Disney Characters introduced in Kingdom Hearts II: Flora, Fauna, and Merryweather • Maleficent's Raven • Scrooge McDuck • Mulan • Li Shang • Shan Yu • Hayabusa • Yao, Ling, and Chien Po • The Emperor • Lumiere • Cogsworth • Mrs Potts • Chip • Wardrobe • Pegasus • Megara • Pain and Panic • Hydra • Horace Horsecollar • Clarabelle Cow • Clara Cluck • Jack Sparrow • Elizabeth Swann • Will Turner • Captain Barbossa • Bo'sun • Jacoby • Twigg • Cursed Crew • Prince Eric • Attina • Andrina • Santa Claus • Skeletal Reindeer • Timon • Pumbaa • Nala • Rafiki • Scar • Shenzi, Banzai, and Ed • Mufasa • Kiara • Pridelanders • Hyenas • Tron • Master Control Program • Commander Sark • Kanga • Gopher • Stitch • Chicken Little
Disney Characters introduced in Birth by Sleep: Prince Phillip • Maleficent's Goons • Doc • Grumpy • Happy • Sleepy • Bashful • Sneezy • Dopey • The Prince • Evil Queen • Magic Mirror • Prince Charming • Jaq • Lady Tremaine • Anastasia • Drizella • Lucifer • Grand Duke • Grand Councilwoman • Captain Gantu • Jumba • Experiment 221 • Lost Boys
Disney Characters introduced in Dream Drop Distance: Quasimodo • Esmeralda • Phoebus • Judge Claude Frollo • Victor, Hugo, and Laverne • Kevin Flynn • Sam Flynn • Quorra • CLU • Rinzler • Black Guards • Blue Fairy • Beagle Boys • Chernabog's Minions • Julius
Disney Characters introduced in Kingdom Hearts χ: Mad Hatter • March Hare • Razoul • Royal Guards • Maurice • Gaston
Disney Characters introduced in Kingdom Hearts Union χ: Sultan • Samson • Vanellope von Schweetz • Fix-It Felix Jr. • Sergeant Calhoun • King Candy • Sour Bill • Cy-Bugs • Hero's Duty Troops
Disney Characters introduced in Kingdom Hearts III: Zeus • Apollo • Athena • Hermes • Lava Titan • Tornado Titan • Little Chef • Woody • Buzz Lightyear • Rex • Hamm • Sarge • Green Army Men • Little Green Men • Rapunzel • Flynn Rider • Pascal • Maximus • Mother Gothel • Sulley • Mike Wazowski • Boo • Randall Boggs • Child Detection Agency • Trailer Son and Mom • Elsa • Anna • Kristoff • Olaf • Sven • Marshmallow • Hans • Mr. Gibbs • Tia Dalma • Davy Jones • Kraken • Cutler Beckett • Baymax • Hiro Hamada • Go Go Tomago • Honey Lemon • Fred • Wasabi • Lumpy • Wreck-It Ralph
Disney Characters introduced in Kingdom Hearts Dark Road: Tweedledee and Tweedledum
Disney Characters introduced in the manga: Caterpillar • Chi-Fu
Square Enix Characters: Leon • Cloud • Moogle • Others
v - e - d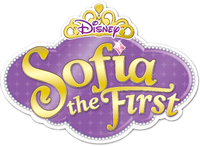 Characters
Princess Sofia • Queen Miranda • King Roland II • Prince James • Princess Amber • Princess Hildegard • Cedric the Sorcerer • Wormwood • Baileywick • Robin • Mia • Clover • Whatnaught • Goodwyn the Great • Winifred the Wise • Jade • Ruby Hanshaw • Princess Clio • Prince Zandar • Princess Jun • Prince Hugo • Minimus • Princess Vivian • Crackle • King Marcus and Queen Cecily • Trolls• Lucinda • Prince Jin • Magic Carpet • Jasper • Prince Khalid • Meg and Peg • Madam Ubetcha • Prince Desmond • Miss Nettle • Sir Gillium • Professor Popov • Helen Hanshaw • Oona • Queen Emmaline • Cora • Plank • Aunt Tilly • Wilbur the Wombeast • Sven • Emperor Quon • Empress Lin-Lin • Rex • Prince Axel • King Garrick • Electra • Vaughan and Vance • Marla • Sir Bartleby • Sir Maxwell • Sir Finnegan • Gwen • Chef Andre • Sofia the Worst • Lady Joy • Lord Gilbert • Wu-Chang • Jade Jaguar • Sir Dax • Boo • Princess Lani • Mamanu • Kamea and Halia • Praline • Freedo • Princess Zooey • Princess Astrid • Slickwell • Greylock the Grand • Princess Ivy • Dragons of Enchancia • Winter • Whiskers • Glacia the Ice Witch • Elliot, Amy, and Kurt • Tizzy • Master Erwin • Bryce Twigley • Button, Benngee, and Brody • Mossy • Carol of the Arrow • Jane • Princess Kari • Miss Elodie • Fluke • Slim • Shelly • Flip • Mantacorn • Onyx and Opal • Wendell Fidget • Mrs. Fidget • Saffron • Muck, Gunk, and Grime • Spruce • Ballerina • Mazzimo • Prince Roderick • Gavin • Kazeem • Sergeant Fizz • King Habib and Queen Farnaz • Chief Gnuckles • Flinch • Grotta • Elfonso • Elfred • Milo the Snake • King Henrik • Cordelia the Conjuror • Calista • Morgana • Crispy • Barley • Sassofras • Professor Zacharias Fleeber • Grand Mum • Gemina and Argus • Count Barnstorm • Sir Oliver • Sir Jaxon • Willawing • Kai • Princess Charlotte • Morris • Zinessa • King Philip and Queen Everly • Lily • Indigo • Marty and Maple • Mandy • Grimtrix • Wriggley, Pumpkin, and Chester • Skye • Piccolo • Baron Von Rocha • Professor Pecullian • Sea Monsters • Malachite and Fig • Omar • Prisma • Azurine • Orion • Vega • Chrysta • Sizzle • Cinder • Singe • Mare of the Mist • King Roland I • Roma • Giggling Goblin • Captain Quivers • Twitch • Vor • Nerissa


Elena of Avalor: Princess Elena • Princess Isabel • Francisco • Luisa • Shuriki • Alacazar • Zuzo • Mateo • Migs, Luna, and Skylar • Rafa • Chancellor Esteban • Armando • King Raul and Queen Lucia • Naomi Turner
Guest Characters: Flora, Fauna, and Merryweather • Cinderella • Jasmine • Magic Carpet • Belle • Ariel • Aurora • Snow White • Mulan • Rapunzel • Tiana • Merida • Olaf • Merlin • Archimedes
v - e - d

Disney
Mickey Mouse & Friends: Mickey • Minnie • Donald • Daisy • Goofy • Pluto • Fifi • Pete • Clarabelle Cow • Horace Horsecollar • Willie the Giant • Chip and Dale • Mortimer Mouse • Chief O'Hara • Detective Casey • Butch the Bulldog • Golden Harp • Father Time • Peter Pig


The Lion King: Simba • Nala • Shenzi, Banzai, and Ed • Ostrich • Gazelle • Rhino • Hippo • Zebra • Blue Beetle • Grub • Zazu • Rafiki • Timon • Pumbaa • Mufasa • Scar
Tangled: Rapunzel • Flynn Rider • Stabbington Brothers • Pub Thugs • Attila • Vlad • Big Nose • Hook Hand • Ulf • Shorty • Pascal • Maximus • Mother Gothel • The King • The Queen • Captain of the Guards • Warthog • The Lantern
Wreck-It Ralph: Ralph • Vanellope • Felix • Sgt. Calhoun • King Candy • Taffyta Muttonfudge • Candlehead • Surge Protector • Gene • Nicelanders • Rancis Fluggerbutter • Other Sugar Rush Racers • Sour Bill • Blue Racer • General Hologram
Big Hero 6: Hiro Hamada • Baymax • Robert Callaghan • Go Go Tomago • Honey Lemon • Wasabi • Fred • Fred's Dad • Tadashi Hamada • Cass • Yama • Alistair Krei • Heathcliff • Abbigail Callaghan • Attila • Sergeant Gerson • Cass
Zootopia: Judy Hopps • Nick Wilde • Flash • Clawhauser • Gazelle • Yax • Bogo • Mayor Lionheart • Bellwether • Doug • Finnick • Mr. Big • Mr. Otterton • Manchas • Gideon • Jerry Jumbeaux Jr. • Nanga • Priscilla • Mr. Hopps • Mrs. Hopps • Business Lemming • Duke Weaselton • Fru Fru • Kozlov • Officer McHorn • Wrangled • Wreck-It Rhino • Pig Hero 6
The Jungle Book: Mowgli • Kaa • Baloo • Akela • Raksha • Gray • Shere Khan • Colonel Hathi • King Louie • Bandar-Log Monkey • Flying Squirrel • Crocodile • Peacock • Vulture • Elephant • Bee Hive
Alice Through the Looking Glass: Alice Kingsleigh • Dormouse • Tweedledee and Tweedledum • Cheshire Cat • Bandersnatch • Bayard • White Queen • March Hare • White Rabbit • Mad Hatter • Absolem • Time • Wilkins • Humpty Dumpty • Red Queen • Borogrove • Frog Delivery Man • Gentleman Fish • Vegetable Soldier • Vegetable Servant • Vegetable Executioner • Armored Chess Piece
Pirates of the Caribbean: Jack Sparrow • Will Turner • Elizabeth Swann • Joshamee Gibbs • Tia Dalma • James Norrington • Marty • Cotton • Bootstrap Bill Turner • Pintel • Ragetti • Angelica • Blackbeard • Prison Dog • Maccus • Davy Jones • Helmsman • Philip Swift • Syrena • Captain Salazar • Ghost Lesaro • Shansa • Henry Turner • Carina Smyth • The Redhead • Murtogg • Mullroy • Treasure Chest • Stray Cat • Tiny • Pirate With Pigs • Ghost Shark • Ghost Seagull • Auctioneer
Aladdin: Aladdin • Jasmine • The Sultan • Prince Achmed • Gazeem • Razoul • Rajah • Iago • Abu • Genie • Jafar • Magic Carpet • Pink Flamingo • Beggar Jafar • Golden Scarab Beetle • Magic Lamp • Snake Charmer • Golden Camel
The Nightmare Before Christmas: Jack Skellington • Sally • Lock, Shock, and Barrel • Oogie Boogie • Santa Claus
Mulan: Mulan • Yao, Ling, and Chien Po • Fa Li • Fa Zhou • Hayabusa • Khan • Cri-Kee • Little Brother • Mushu • Shan Yu • Captain Li Shang • The Emperor of China • The Matchmaker • General Li • Grandmother Fa • First Ancestor Fa • Chi-Fu • Great Stone Dragon
Moana: Moana • Sina • Frigatebird • Chief Tui • Gramma Tala • Pua • Frigatebird • Kakamora Chief • Maui • HeiHei • Ghost Matai • Eel • Tamatoa • Frog Monster • Sloth Monster • Eight Eyed Bat • Chicken Feed • Maui's Hook • The Ocean
Beauty and the Beast: Belle • Maurice • Chip Potts • Mrs. Potts • Gaston • LeFou • FrouFrou • Chapeau • Plumette • Beast • Cogsworth • Lumiere • The Enchantress
Lilo & Stitch: Lilo Pelekai • Nani Pelekai • David Kawena • Mrs. Hasagawa • Mertle Edmonds • Stitch
DuckTales: Scrooge McDuck • Donald Duck (Classic) • Huey, Dewey, and Louie • Webbigail Vanderquack • Mrs. Beakley • Beagle Boys (Big Time, Burger, and Bouncer) • Gyro • Darkwing Duck • Falcon Graves • Pixiu Chinese Dragon • Peghook's Ghost • Launchpad McQuack • Hack and Slash Smashnikov • Gizmoduck • Shadow Magica • Ma Beagle • Flintheart Glomgold • Pharaoh Toth-Ra • Headless Man-Horse
Community content is available under
CC-BY-SA
unless otherwise noted.