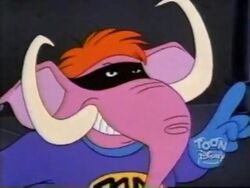 Mammoth Mammoth is a small toon mammoth in the TV series Bonkers and appears as the main antagonist in the episode "A Wooly Bully". He is voiced by Stuart Pankin.
He thinks he's a real superhero, when in reality he is just an actor who got too obsessed with his role and got fired because of it, and tried to fight crimes with his overbearing bravado with disastrous results.
Trivia
He is similar to Bolt, as he thinks he's a real superhero and not an actor while people around him tell him he's not, although unlike Bolt, the director of his show is one of those people.