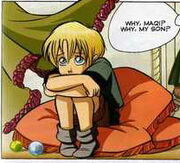 Maqi is a character in the W.I.T.C.H.'s Arc 3: A Crisis on Both Worlds.
Son of Ari
Maqi is Ari and Jamayeda's son. When he was born he had an ailment similar to autism as well as the inability to speak. This causes Ari to plead for the Himerish's help but he refused saying that it was a small matter and not the concern of Kandrakar for the concern of Kandrakar is that of the universe. This angered Ari and also made Ari attempt the impossible in his dimension; capture a banshee. He had succeeded at this task and even captured the most powerful of the banshees, Yua. But Yua was unable to grant Ari's true wish and so he decided to challenge the power of Kandrakar using his banshee, the girls encountered Maqi through Orube sense when they're looking for Yua. This revealed that Maqi, like Yua was a prisoner of his loneliness. When the girls freed Yua she kidnapped Maqi to take revenge upon her former master. When the guardians defeated the banshees at the banshee swamp Yua appeared holding Maqi and when she intended to escape Ari, his former master grips Yua's dress causing her to lose her grip on little Maqi. Maqi suffered dire injuries when he fell down the heights. But the guardians, using the gift of Xin Jing healed the injuries not knowing that they already healed Maqi's primary sickness and Maqi began talking. This solved the problems. In the later issues Maqi together with his father are shown having a festival and tournament as they welcomed the guardians.
Community content is available under
CC-BY-SA
unless otherwise noted.