Spider-Man: No Way Home Trailer Dropped - The Loop
Play Sound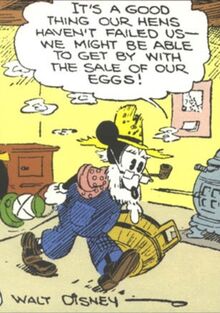 Marcus Mouse is Minnie Mouse's stern father. He is a farmer, and runs the family farm with his wife.
He first appeared in A 'Pot' Shot, an illustrated Mickey Mouse verse from 1930. He was still unnamed, and shown throwing a pot at Mickey's head while the latter is giving a serenade to Minnie.
He was first named in Mr. Slicker and the Egg Robbers by Floyd Gottfredson, in which he was also depicted as a farm owner for the first time. The eggs of his chicken are being stolen, and because a drought has ruined his family's crops, he is unable to pay the mortgage. Mr. Slicker offers to help him out of debt, but only if Minnie agrees to marry him, which she does not want to. However, Mickey eventually finds out that the egg robbers work for Slicker, and manages to save the day.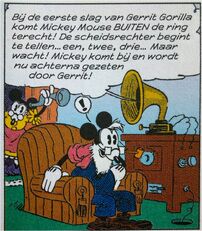 Minnie's parents briefly reappeared in the 1931 comic Boxing Champion, also drawn by Gottfredson, listening to Mickey's boxing match by radio.
Marcus could be seen on a portrait in the 1934 comic In the News and appeared in a number of daily strips afterwards.
In the Goofy comic Sheerluck Goof and the Giggling Ghost of Nottenny Moor, Miss Minnie's father is captured by Pete. In this story, Minnie's father had a design that was very different from the one in his classic stories.
Gallery