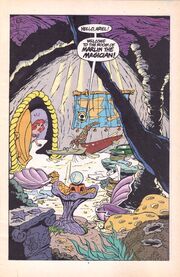 Marlin is a wizard fish who only appeared in "Of Myths and Mermaids", the final issue of Marvel Comics series of The Little Mermaid.
Biography
After Ariel got herself beached for surfacing, she stumbled upon his room, and learned a hidden history of Atlantica from him: Specifically, what led to its creation. She attempted to show Triton, Urchin, and Flounder Marlin's room, but it disappeared, causing them to think she just dreamed the experience, although the presence of Marlin's hat and book in the final panel strongly implies otherwise.
Trivia
His name and position is an obvious reference to Merlin.