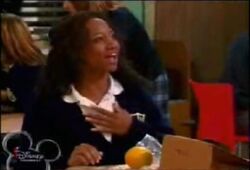 This is about the Suit Life character Mary Margaret. If your're looking for the Once Upon A Time Character also known as Mary Margaret Blanchard, please visit Snow White. [1]
Mary Margaret is one of Maddie's best friends. She is as intelligent as Maddie and is a good volleyball player. She was convinced that London would be her best friend. She is only smart with her for London's money and fame. She is portrayed by Monique Coleman.
Episodes
"A Prom Story"
"Forever Plaid"
"Not So Suite 16"
"Neither a Borrower nor a Speller Bee"
"Kept Man"
"Volley Dad"
Community content is available under
CC-BY-SA
unless otherwise noted.