Mascot Love
" is the eighth episode of Season 1 of
Hannah Montana
. The title is a reference to the Captain & Tennille song "Muskrat Love".
Plot
Miley thinks that she and Lilly should try out for the cheerleading team so they can spend more quality time together since Miley spends most of her time rehearsals, soundchecks, concerts, wardrobe fittings, and wardrobe checks. Miley coaches Lilly in cheerleading so Lilly can make the team, but Lilly is really bad. So, at the tryouts, Miley is scared that Lilly won't make the team, but she ends up doing her skateboarding stunts (without the skateboard), and is amazing. Lilly gets on the team and Miley doesn't, but instead is made the mascot, "Pirate Pete." Miley becomes jealous of Lilly. Because of the school's cheap budget, Miley has to wear a dirty pirate head and ride a pink tricycle. Lilly now has no time for Miley because all her time is being taken up by cheerleading practice.
During a game, Miley gets fired as the mascot for getting in a fight with another mascot, and Lilly just leaves Miley by herself because she likes cheerleading now. Miley learns her lesson, that she should be happy for Lilly and support her, because Lilly always does the same for Miley at her Hannah Montana concerts. So Miley does not go to the Rolling Stones concert, instead she goes to the mall to spend quality time with Lilly. At the end, Oliver ends up as the mascot and is good at it, but smells really bad.
In the subplot, Robby pays Jackson to fix the sink and garbage disposal. After some time, they call a plumber and he tells Robby that Jackson actually saved the house from being flooded. Surprised, Robby congratulates Jackson.
Trivia
The episode won the "Rah Rah Wrong" category in the 2006 Disney Channel New Year Sing-Along Bowl-athon.
The song "Pumpin' Up the Party" is featured in the episode.
The scene where Miley comes home and says the mask is following her is a reference to The Mask, a movie where the main character (Jim Carrey) is also trying to get rid of a mask, but is unable to because it keeps coming back to him.
Miley Cyrus had always wanted to be a mascot. She revealed this during the Disney Channel Games of 2006.
In real life, Miley's favorite sport is cheerleading. She revealed this in the Hannah Montana 2-Disc Special Edition Soundtrack.
The scene where Jackson pretends to shoot webs out of his wrists after claiming that he got bitten by spiders is a reference to Spider-Man.
Goofs
When Miley goes to the refrigerator as Hannah Montana her real hair can be seen under her wig.
When Oliver says his phone number during cheer practice, he says "5550121" but later on in the episode, he says "5550127".
When Lilly is auditioning for the cheerleading team, Miley is missing from the bleachers in one shot.
v - e - d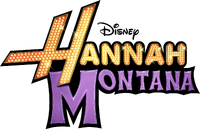 Episodes
Season One: "Lilly, Do You Want to Know a Secret?" • "Miley Get Your Gum" • "She's a Super Sneak" • "I Can't Make You Love Hannah if You Don't" • "It's My Party, and I'll Lie if I Want To" • "Grandmas Don't Let Your Babies Grow Up to Play Favorites" • "It's a Mannequin's World" • "Mascot Love" • "Ooh, Ooh, Itchy Woman" • "O Say, Can You Remember the Words" • "Oops! I Meddled Again!" • "On the Road Again?" • "You're So Vain, You Probably Think This Zit is About You" • "New Kid in School" • "More Than a Zombie to Me" • "Good Golly, Miss Dolly" • "Torn Between Two Hannahs"• "People Who Use People" • "Money for Nothing, Guilt for Free" • "Debt it Be" • "My Boyfriend's Jackson and There's Gonna Be Trouble" • "We Are Family, Now Get Me Some Water!" • "Schooly Bully" • "The Idol Side of Me" • "Smells Like Teen Sellout" • Bad Moose Rising"
Season Two: "Me and Rico Down by the Schoolyard" • "Cuffs Will Keep Us Together" • "You Are So Sue-able to Me" • "Get Down, Study-udy-udy" • "I Am Hannah, Hear Me Croak" • "You Gotta Not Fight for Your Right to Party" • "My Best Friend's Boyfriend" • "Take This Job and Love It" • "Achy Jakey Heart" • "Sleepwalk This Way" • "When You Wish You Were the Star" • "I Want You to Want Me... to Go to Florida" • "Everybody Was Best-Friend Fighting" • "Song Sung Bad" • "Me and Mr. Jonas and Mr. Jonas and Mr. Jonas" • "Don't Stop 'Til You Get the Phone" • "That's What Friends Are For?" • "Lilly's Mom Has Got it Goin' On" • "I Will Always Loathe You" • "Bye Bye Ball" • "(We're So Sorry) Uncle Earl" • "The Way We Almost Weren't" • "You Didn't Say it Was Your Birthday" • "Hannah in the Streets with Diamonds" • "Yet Another Side of Me" • "The Test of My Love" • "Joannie B. Goode" • "We're All on This Date Together"
Season Three: "He Ain't a Hottie, He's My Brother" • "Ready, Set, Don't Drive" • "Don't Go Breaking My Tooth" • "You Never Give Me My Money" • "Killing Me Softly with His Height" • "Would I Lie to You, Lilly?" • "You Gotta Lose That Job" • "Welcome to the Bungle" • "Papa's Got a Brand New Friend" • "Cheat It" • "Knock Knock Knockin' on Jackson's Head" • "You Give Lunch a Bad Name" • "What I Don't Like About You" • "Promma Mia" • "Once, Twice, Three Times Afraidy" • "Jake... Another Little Piece of My Heart" • "Miley Hurt the Feelings of the Radio Star" • "He Could Be the One" • "Super(stitious) Girl" • "I Honestly Love You (No, Not You)" • "For (Give) a Little Bit" • "B-B-B-Bad to the Chrome" • "Uptight (Oliver's Alright)" • "Judge Me Tender" • "Can't Get Home to You Girl" • "Come Fail Away" • "Got to Get Her Out of My House" • "The Wheel Near My Bed (Keeps on Turnin')" • "Miley Says Goodbye?"
Season Four: "Sweet Home Hannah Montana" • "Hannah Montana to the Principal's Office" • "California Screamin'" • "De-Do-Do-Do, Da-Don't-Don't, Don't, Tell My Secret" • "It's the End of the Jake as We Know It" • "Been Here All Along" • "Love That Lets Go" • "Hannah's Gonna Get This" • "I'll Always Remember You" • "Can You See the Real Me?" • "Kiss it All Goodbye" • "I Am Mamaw, Hear Me Roar!" • "Wherever I Go"
"
Community content is available under
CC-BY-SA
unless otherwise noted.