Spider-Man: No Way Home Trailer Dropped - The Loop
Play Sound
"I'm Mack."
―Mack introducing herself
McKenzie, often called Mack, is one of the two protagonists of the Disney Channel film, Teen Beach Movie.
Background
McKenzie is a surfer who is very passionate about it. She loves spending time surfing and hanging out with her boyfriend, Brady. She also does not seem to be a fan of musicals. It is revealed that McKenzie's mother, died prior to the film's events. She is living with her aunt. Her father is not mentioned. McKenzie's mother always wished for McKenzie to attend a prestigious college and to focus on her studies, not surfing, when it is time. McKenzie promised her mother she would, and throughout the movie, struggles to keep that promise.
Personality
McKenzie is a smart and confident girl with a competitive side. Mack is really passionate about surfing. She can also be very serious when she needs to be. When she and Brady get trapped in Wet Side Story, McKenzie is serious about it and is focused on getting home.
Appearances
In the movie, after a surfing accident, McKenzie gets trapped into her boyfriend Brady's favorite musical, Wet Side Story, along with Brady. Brady is ecstatic for endless summer, but McKenzie just wants to get home so she can keep her promise to her aunt about going to college when it is time, fulfilling her mother's wishes. She says that every minute she is there, she is not doing what her mom wanted.
Soon, at Big Mama's hang-out, Mack accidentally changes the movie when she bumps into Tanner, the movie's leading surfer, who catches her. Since she fell into his arms, Tanner falls in love with her instead of the movie's intended love interest, Lela. Now, Mack fears that her fate will be changed forever, especially when she finds herself randomly singing, morphing into the movie.
Mack has been having problems with her boyfriend, Brady, and they break up. Later, her old friends from Wet Side story suddenly arrive in her time. Mack has to team up with Brady to help their friends return back to the movie. Mack tries to teach Lela how to act in modern times and takes her home in the hopes that she can find something for Lela to wear that is not from the 60s, but then Lela reveals that she does not want to leave the modern age, so Mack has to try to show her how things are better in the movie world. Lela and Tanner help Mack and Brady get back together, and Mack and Brady get them back home to Wet Side story.
v - e -

d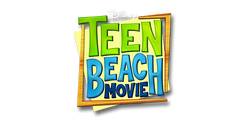 Characters
Brady • McKenzie • Lela • Tanner • Butchy •

Seacat

•

Cheechee

• Rascal •

Lugnut

• Giggles •

Struts

•

Big Poppa

•

Aunt Antoinette

•

Dr. Fusion

•

Les Cambert

•

Big Momma