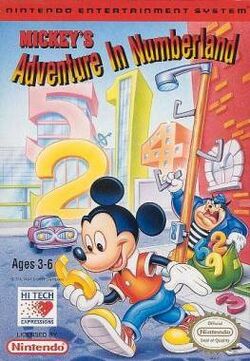 Mickey's Adventures in Numberland
is an educational video game starring
Mickey Mouse
, released in March
1994
for the Nintendo Entertainment System.
Plot
In this game, Mickey must collect all of the numbers from zero to nine in order prvevent the evil Pete from completely robbing Numberland. The five levels are: Number City, Number Factory, Space Center, Number Museum, and Pete's Hideout. Basic math questions must be answered in order to progress to the next level. There are three difficulty levels; players can only "die" on the hardest difficulty level. Also, the player is given balls of bubblegum to be used against enemies as a weapon. These elements create a "traditional video game" environment to an otherwise "purely educational" video game.
The hardest mode of the video game also has a secondary function: to teach children about the basics of playing side-scrolling platform video games.
Details
Publisher: Hi-Tech Expressions, Inc.
Designer: James Halprin, Wayne Simmons
Composer: Marshall Parker
Release date: March 1994
Genre: Edutainment
Mode: Single-player
Media/distribution: Cartridge (Physical) Internet download (Digital media)
Community content is available under
CC-BY-SA
unless otherwise noted.