Spider-Man: No Way Home Trailer Dropped - The Loop
Play Sound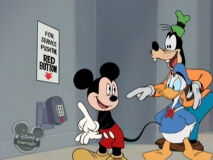 Mickey's Answering Service (shortened to Answering Service when shown on House of Mouse during the episode, "Dining Goofy") is a cartoon made by Walt Disney Television Animation. It was originally shown as part of an episode of Mickey Mouse Works on September 30, 2000.
Synopsis
Mickey, Donald, and Goofy try business together one more time as the owners of a telephone answering service.
Plot
The short begins with Mickey, and Goofy raising their hands above a phone while Donald rests. Goofy comments on the easiness of being an answering service when there's no incoming calls, which leads Mickey to suspect that the phone is broken, proven when the phone literally dies on them. While Donald sees this as an excuse to go home, Mickey convinces him to help them fix their phone or they're all fired, to which Donald simply replies "Aw, phoooey!"
At the phone company, they push a red button for service and a machine picks up, but makes Mickey press buttons for useless actions to the point where he shuts himself out of the machine. Donald then gives a go at it and decides to press buttons opposite what the machine tells him, and was able to locate the "pay my bill" function, only for a hand to literally take his bill off, which Goofy then hands back to him. Furious, Donald tries to rip apart the keypad, which he does, but the keypad ends up being swallowed by Donald. Goofy then decides to follow Donald's idea of pressing random buttons, which then leads to the door being opened. Seeing this as a sign of progress, the trio enter the building.
Inside, they press random buttons that lead them to various doors, including a foreign language room, an out-of-order room, and a room with no lights when prompted to write what's in front of them. Just like a payphone, the phone company ejects them through the change slot when their "time" was up. Frustrated over the wild goose chase, Donald stomps on the keypad to shut it up, which the keypad goads him to do even harder, which he does 3 times, before thanking him and breaking down. Meanwhile, Mickey finds a way inside the company via a payphone, where the receiver sucks the trio in.
Once inside, Mickey calls out to an empty room, which he then deduces that it's a fully automated phone company, due to the lack of people there. This confuses Goofy, who wonders who's nobody, which Mickey tries to explain to him through simple words, only for Goofy to twist them leaving Mickey confused as well.
Wandering around, the trio decide to enter one random room where they find a plethora of phones. Goofy then examines all the phones that are literal in their purposes (including a fire-line, waterline, fe-line, airline, party line, breadline, hairline, lifeline, among other lines, as well as an incline, which tilts the room at a 90 degree angle).
In another room, Mickey hears some music, and decides to connect some lines in to amplify it. Unbeknownst to him, Donald has already connected the same lines, and Mickey connecting them has yanked them out of their place. Donald, angry and confused, decides to put them back in their sockets, but then Mickey notices that and tries to do the same, the two playing tug-of-war to connect the plug to their sockets. Ultimately, Donald wins, but gets the line wrapped around himself and is connected to two sockets opposite his arms, making him the "line king" (Bad pun, Goofy...).
Back at their business, the trio have their phone fixed, and are just waiting for calls, which someone then does, but it's not the phone that they thought they fixed. As the ringing does a bit of disturbances around the place, the trio couldn't find where the ringing came from, until they see Goofy's bum shaking with the phone inside. As both Mickey and Donald refuse to answer it for obvious reasons, Goofy can only stand uncomfortably as the phone rings and commenting that it felt ticklish.
Trivia
This is one of the two episodes along with "How to be a Waiter" to have dialogue in another language as a gag.