Mickey's Dangerous Chase, known in Japan as Mickey's Chase, is a video game that was released for the Game Boy. This title was one of the first Game Boy games to be reissued under the Nintendo Player's Choice banner in 1996.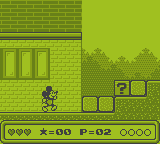 Plot
Big Bad Pete is always trying to give Mickey grief, and this time he's done it by stealing a special present that Mickey bought for Minnie Mouse. Play your way through five sprawling levels each comprised of three challenges to get the present back. You can play as either Mickey or Minnie as you fight for the present! Locations include a lake, mountaintop, shopping center, and the woods, and obstacles include flying squirrels, snowballs, prairie dogs, snakes, and spiders.
Special bonuses and power-ups include invulnerability, extra lives, and energy boosts. Pick up and toss boxes you find along the way to discover the bonuses and also toss them to help defeat the bosses. Face off against Big Bad Pete in the end, and if you manage to whack him with enough boxes you'll get Minnie's gift back and win the game.
Trivia
This game was promoved in an promotional Nintendo VHS released in Spain in 1992 in order to promote Game Boy, Super Nintendo and NES games for Christmas 1992, also, the summary of this game while being presented during the game section was read by the popular videogame character Mario.
External links
| | |
| --- | --- |
| | This page uses content from the English Wikipedia. The article or pieces of the original article was at Mickey's Dangerous Chase. The list of authors can be seen in the page history. As with Disney Wiki, the text of Wikipedia is available under the GNU Free Documentation License. |
Community content is available under
CC-BY-SA
unless otherwise noted.