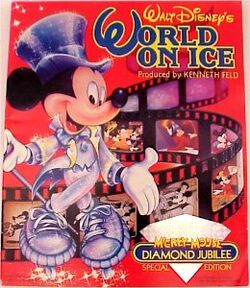 Mickey's Diamond Jubilee is the eighth Walt Disney's World on Ice show, originally toured from 1988 to 1993. It was originally produced in celebration of Mickey Mouse's 60th anniversary. It is notable for featuring a rare appearance from Pete and Madam Mim in "live" form. Willie the Giant also makes an appearance in "live" form, albeit as just a giant hand and arm.
Setup
Act One
Scene 1: THE ROARING 20's

In the days of hot jazz and cool clubs, a mouse named Mickey makes a stunning film debut.

Scene 2: LET'S ALL GO TO THE MOVIES

Did you say a mouse? Yes! He's the star of the first animated cartoon with sound!

Scene 3: COLONY THEATRE

Here in the famous Colony Theatre, the excitement builds as the opening act gets a little wound up.

Scene 4: STEAMBOAT WILLIE

And now, here's our magnificent star – whistling a happy tune in his world debut performance.

Scene 5: SORCERER'S CASTLE

The Disney gang helps Mickey recreate his most exciting role – as a sorcerer's apprentice whose silly spells get out of hand.
INTERMISSION
Act Two
Scene 1: MARVELOUS MADAM MIM

Watch Out! There's trouble brewing – Mad Madam Mim has vowed to zap Mickey and his friends!

Scene 2: SO THIS IS LOVE

The lovebirds, Minnie and Mickey, look like they're floating on air as they dance a romantic waltz across the ice.

Scene 3: WHERE'S MICKEY?

Because of Madam Mim's mischief, the search is on for Mickey – and things are really up in the air!

Scene 4: THE LAND ABOVE THE CLOUDS

High above the clouds, we find beautiful butterflies, glittery glo-bugs and... A BIG SURPRISE!

Scene 5: YELLOWJACKET JUMPER

Buzz, buzz, buzzzzzz. There's the Yellowjacket Jumper! Wow! Look at him go!

Scene 6: HERE'S LOOKING AT YOU, MICKEY

At the bottom of the beanstalk, lies a sheet of shining ice. And from within a diamond, comes the Mouse to beat all mice! Happy 60th Birthday, Mickey!
Gallery
Community content is available under
CC-BY-SA
unless otherwise noted.