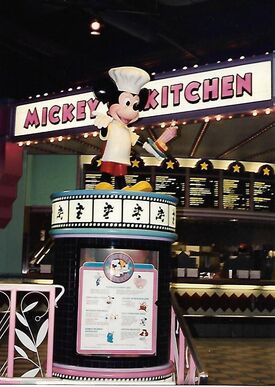 Mickey's Kitchen
is a defunct restaurant chain that operated experimentally from
1990
to
1992
.
Designed to accompany the Disney Store and drive more traffic towards it, two test locations existed at the Montclair Plaza outside Los Angeles, California and at the Woodfield Mall outside of Chicago, Illinois. Like many of the Disney Stores at the time, character vignettes were placed throughout the restaurant space featuring characters from Winnie the Pooh, Alice in Wonderland, and Lady and the Tramp.
Menu items included Goofy's Burger, the Supercalifragi-Chicken salad, Salads-in-Wonderland, Soup-a-dee-doo-dah, fries shaped like Disney characters, Mickey's Meatless Burger, Pinocchio's Pizza. The kids meal equivalent was the Mouseketeer Meal, complete with a toy.
In the end, Mickey's Kitchen was unable to compete with more established mall food court restaurant chains and the concept was shuttered in 1992.
[Photos of Mickey's Kitchen were taken by Kathy Barkus Racine and originally posted on the We Chus Disney Facebook page]
Gallery
See also
Community content is available under
CC-BY-SA
unless otherwise noted.