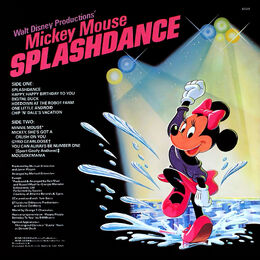 Mickey Mouse Splashdance is a 1983 album featuring 1980s-style pop songs with Mickey Mouse and his friends. The album was mostly written and arranged by Michael and Patty Silversher, and co-produced by Jymn Magon.[1]
The album serves as a sequel to the 1979 disco-style album Mickey Mouse Disco, also produced by Magon. It was re-released on CD in 1995.
The second track from the album, "Happy, Happy Birthday to You", was later used for both an animated music video for Donald Duck's 50th birthday, and for a stage show for Mickey Mouse's 60th birthday at Disneyland and Walt Disney World.
Track listings
Side One
Side Two
Vocalists
Ron Mael and Russell Mael (Sparks)
Gail Lopata
Lora Mumford
Other Releases
References
Community content is available under
CC-BY-SA
unless otherwise noted.