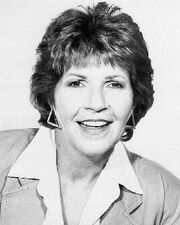 Mickie McGowan (born January 2, 1938) is an American voice actress, casting agent, and ADR director. She was the ADR casting director for Walt Disney Animation Studios during the Renaissance-era, until 2004. She now mainly works with Pixar and Illumination Entertainment (one of Pixar and Disney's current competitors). She has performed the voice of Mrs. Phillips in Toy Story, the Cockroach Waitress in A Bug's Life and also in the video game. She also voiced the mom at the yard sale in Toy Story 2, Bath House Woman in the English dub of Spirited Away, Bird Brain Mary in Treasure Planet and additional voices in Monsters, Inc., The Incredibles, Cars, Ratatouille, WALL-E, Tokyo Mater, Toy Story 3, Monsters University, Incredibles 2, and Toy Story 4. She also voiced Police Officer Edith in Up.
Her other Disney roles included additional voices and ADR casting for DuckTales the Movie: Treasure of the Lost Lamp, Brother Bear, Home on the Range, Chicken Little, the English dub of Ponyo and Porco Rosso, The Emperor's New Groove, Hercules, Lilo & Stitch, Aladdin, Tarzan, Finding Nemo, Mulan, The Little Mermaid, Gordy, A Far Off Place, Who Framed Roger Rabbit, 101 Dalmatians, The Brave Little Toaster, Beauty and the Beast, The Mighty Ducks, Oliver & Company, The Rescuers Down Under, The Hunchback of Notre Dame, and Turner & Hooch. She also performed the voice of Mom in Doug's 1st Movie and Mooing Cow and Flying Witch in Who Framed Roger Rabbit.
Community content is available under
CC-BY-SA
unless otherwise noted.